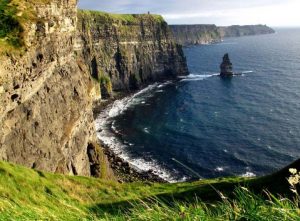 Take a trip to the West coast of Ireland and visit the Cliffs of Moher in county Clare. They offer breath taking views at the heart of the Wild Atlantic Way. This historical landmark is one of Ireland's most famous sights. From the edge of the cliff, this spectacular natural wonder will overwhelm you as you take in the tremendous scenery and hear the waves crashing against the stone below.
Whilst visiting the west coast of Ireland, take a trip to Galway one of Irelands most vibrant places known for its friendly people, charming streets, shopping, and nightlife. Enjoy the wonderful atmosphere this city has to offer.
If the views at the Cliffs of Moher leave you pining for more awe-inspiring views. The Ring of Kerry is a very popular tourist attraction in Ireland particularly busy during the summer months. It is arguably the most scenic day trip in Ireland that offers breath taking views and incredible scenery. For those interested in history the ancient medieval sights are also fascinating. The main reason to visit is to see the beautiful Irish landscape and its coastline.
Another popular place to visit is the Blarney castle built nearly 600 hundred years ago it is a world landmark and one of Ireland's greatest treasures. The Blarney stone is the top attraction with tourists visiting the castle and climbing the tower to 'kiss it'. There is an understanding that those who do this will receive the gift of eloquence. On returning to the grounds of the castle enjoy time spent walking around the beautiful gardens.
Head north of Ireland to the Giants Causeway in County Antrim and take in the unique rock formation surrounded by a beautiful coastline.
A visit to Ireland would not be complete without a trip to Dublin city. Whilst there is the usual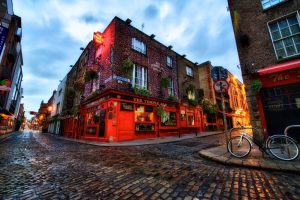 hustle and bustle of any other city, it is worth it to visit some of the capitals most famous attractions. Call into Trinity college to see the Book of Kells or enjoy a stroll around Stephens green park filled with lovely pathways, ponds and fountains located in the heart of the city. In summer time it's a popular location for people to enjoy the sunshine. Visit the Guinness storehouse for a pint of Ireland finest stout. While exploring the city visit one of our most famous landmarks Phoenix park. It is one of the largest enclosed spaces in any capital city in Europe, that alone would make it worthy of a visit.
Finally, a trip to Dublin would not be complete without spending some time in the city's famed Temple Bar area. This vibrant area is filled with bars and restaurants, cobbled pathways and it is renowned for being the cultural quarter of the city.