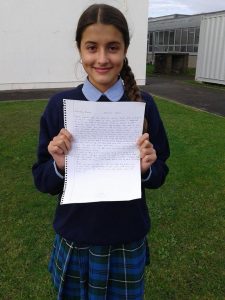 Adriana Torres is from Spain and she recently attended Our Lady's Bower Secondary School for 8 weeks as a first-year student. Here Adriana tells us a little about her favourite trip during her stay in Ireland. Causey Farm is located 10kms from the town of Kells in County Meath. They offer an authentic Irish family farm experience.
A few weeks ago, our group went to Causey Farm and we had a lot of fun. We all had such a good time together. The first activity of the day was baking brown bread. This was very enjoyable, we had to make it all by ourselves and when it was ready we all tasted some and it was so delicious.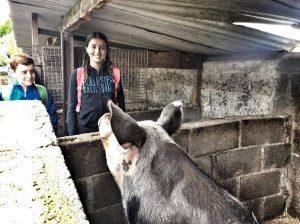 We then went to see the farm animals. We saw a lot of animals such as pigs, cows, ducks and hens. My favourite animal would have to be the cow, we all took turns to milk it and it was funny because  the milk came out very quickly.
After that we had an Irish dancing lesson and they also showed us how to play the Irish drum- the Bodhran and it was very funny because we didn't know how to do it at all.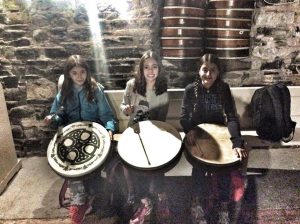 And the last thing we did and the part I liked most was bog jumping it was very enjoyable and really cool. We all got covered in mud and dirt and we were all looking silly by the end.
It was an exciting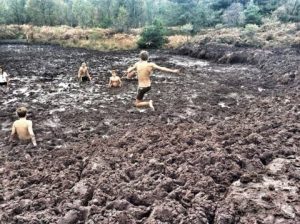 experience but when we got out of the bog it was very cold and we were all freezing, so we got changed and we went to have some food and a cup of tea to warm us up.
We then got back onto the bus and we left the farm, it was an unforgettable experience and we had a lot of fun, for me it was the best excursion ever.
Matilda Héndez is from Spain and she recently attended Our Lady's Bower Secondary School for 8 weeks as a first year student. Here Matilda tells us a little bit about a typical day attending the school.
We are in a beautiful school called Our Lady's Bower. It is a catholic school and it is an all girl's school. We do different subjects such as Home Economics, Art, History, Irish, Science, Religion, English, P.E, Maths, Geography, French, C.S.P.E and S.P.H.E.
My favourite subject is art, we do a lot of creative things in this amazing room filled with art work that has been designed by students from various classes.
At lunch time we eat at the canteen, I can either bring my own lunch or alternatively have food from the cafeteria. Once we are finished eating, one group of girls must clean and tidy the area. A group of girls are chosen weekly and take it in turns to clean up after lunch/ before the next class begins.
In the afternoon we finish school at 3.50 on Monday and Tuesday. We finish school at 3.10 on Wednesday, Thursday and Friday.
When school finishes I get back to my host family on a local bus that collects lots of other children from different schools as well.
I really hope I can come back again for another year.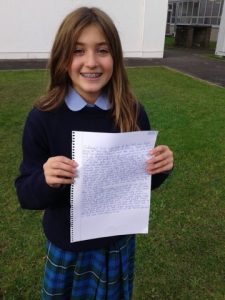 Laura Delgado is from Spain and she recently attended Our Lady's Bower Secondary School for 8 weeks as a first year student. Here Laura gives us an account of one of her favourite trips while in Ireland.
Our trip to Galway was one of the best ones so far. Before going into Galway city, we first went to Athenry Heritage Centre. There a woman told us all about Ireland's past. She then gave us some costumes to try on and we dressed up as Kings, Queens, warriors, princesses, and knights. She guided us through the castle. One place she brought us to which I particularly enjoying was the dungeon. There she showed us the different weapons they used to torture the thief's, criminals, liars, and she also showed us how they used them.
I found a lot of the weapons were very cruel and savage. So, people who lived in the middle age kingdom, really needed to listen, and do what they had been told to avoid getting locked up and tortured.
After that, we went outside to practice some archery. We split ourselves into two different teams; The dragons and the knights, this battle ended with the dragon's victory. We then got back onto the bus and continued on to Galway
After approximately an hour we arrived, we had lunch near a wild cold river. Laura showed us which street we were going to be on and allowed us some time to have a look around. The street was crowded and music invaded every corner. Watching people dancing, playing their instrument, or showing different talents made me feel happy. It really made me want to spend more time there on that joyful street. When it was time to leave we were all exhausted after walking up and down and having a look in EVERY shop. The trip to Galway was short but great and we all looked forward to next Saturday to arrive and to discover where that would take us.
My name is Laura Enjuto I am a group leader from Spain. I have been coming to Athlone for 9 years now and I have been working with Shannon Academy for 7 years. I like Athlone I find it's very good for the programme we are trying to run. This is a small town for us but at the same time it has everything we need, there are shopping centres, a cinema, a bowling alley, and there are schools of course. Basically, this is what we want. We want our students to go to school and for them to have places to go afterwards to enjoy their free time.
The people here are very friendly I have never had a problem with anybody and in fact I will say that I feel very secure, very protected and everyone is taking care of me especially those in Shannon Academy. Any problem I have is solved right away. I like coming here and working with the Shannon Academy staff, they are the best I must tell you the BEST. Athlone is great, it is a very handy town. The location is great, it's very central which is convenient for us because every Saturday we go on trips to different places such as Dublin, Galway or Kilkenny and we never have to travel far. My favourite aspect would have to be going out and enjoying the social scene. It has history as well and it's an interesting town. Without any doubt I would recommend Shannon Academy particularly because of the staff working here they are very friendly and provide anything you need at any time.