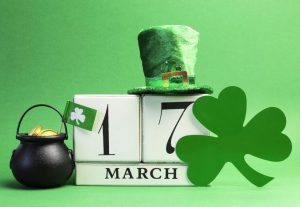 With St. Patrick's day fast approaching we thought we would provide you with some typical Irish phrases that you may hear over the upcoming Bank Holiday weekend. St. Patrick's day is a cultural and religious celebration for Irish people. On St. Patrick's day people usually attend parades that take place all over the country. Celebrations are generally themed around all things Irish and all things green.
There are many wonderful stories about St. Patrick some are true some are untrue. The most famous legend is that he drove the snakes out of Ireland. This did not happen, but the Irish will tell you that you cannot find a snake throughout the entire country of Ireland.
Firstly if somebody is referred to as 'acting the maggot' which is sure to happen this weekend. It simply means they are up to no good.
When you hear somebody is 'happy out' they are very content in their current surroundings.
Now 'awful good' is a phrase used by the Irish. However, when used in these terms it in fact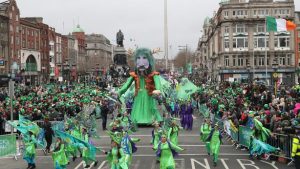 means 'very' not awful. Us Irish like to make things confusing. While we are on the subject 'quare' can also mean 'very' something may be referred to as being 'quare good'.
If you happen to be at a parade over the weekend and are questioned 'was it any use?' it simply means 'was it any good?'
'Ara' is an expression used from the country that fits before your name usually it can be used if a person doesn't believe you, is disappointed, surprised, or really any other feeling.
'It's grand' is a very common phrase used by Irish on a day to day basis, simply meaning it's fine, it does the required task.
If you are told 'the craic was 90' this refers to the fun and atmosphere being excellent.
'I will yeah' is commonly said in response to a person when asked to do something which they have absolutely no intention of doing.
Finally whilst in Ireland you may be offered 'a bag of taytos' but there's no need to worry you are just being asked if you would like a packet of crisps.
My name is Clara I am fifteen years old and I am staying in Ireland, I am living in Tullamore, in County Offaly. It is near Athlone.
I arrived in Ireland on 30th August. At the beginning I was a little confused and homesick. My host family really helped me settle in and I started to feel a lot better. My family are lovely, they help me out a lot and always make me feel happy. The mum is a very good cook and her food is always delicious. I am enjoying my stay so much.
I am in 5th year attending a girl´s secondary school which is unusual for me because in Spain I attended a mixed school. I find some subjects a little bit difficult, but the teachers are very helpful. They understand that in Spain we have some of the same subjects but also different ones such as Home Economics which I find interesting. I find Maths in school pretty easy.
When I finish school my host mum collects me and then we all have our dinner together. Generally after dinner we talk and have a chat about the day. Then I do my homework and go to the gym or pool with my Spanish friends. When I come back to the house I eat something small, sometimes I read a little and I write a journal about my day.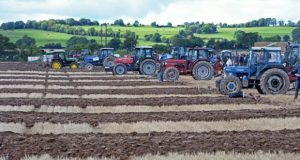 I have visited lots of places and done various activities while I have been here. I went to the National Ploughing Championship, whilst there I met some of my Spanish friends that are in Longford. The National Ploughing Championship is an outdoor agricultural show in Ireland including a ploughing contest. It is held every September, it is extremely popular and draws over 1500 exhibitors and achieves attendances of over 200,000.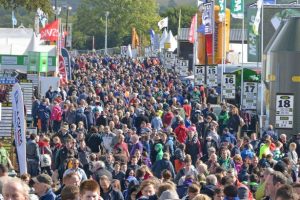 I have been to Athlone shopping for the day and to hang out with my friends. Also, some Fridays after school I go to McDonald's with my friends. I have discovered a lot of new places such as Dunnes Stores, Tesco, Eddie Rockets, Supermac's or Papa Johns for some lovely food.
The best aspect of being over here is that I have met a lot of incredible new people that are so willing to help and now we are like a little family. I also feel I am more independent and confident among many other things. I am excited for the rest of my stay here in Ireland and to discover more about the country and culture.