I arrived in Ireland at the end of August, one week before school started. My first impression was that it was colder than in Spain. My host family were very kind and welcoming as soon as I met them. I immediately began to relax. The house was very big and cosy. I was happy. I had a few days off before I started school. I went shopping with my family, we had a lovely day. I even bought a new jumper and I got my new school uniform.
I travelled to school on the bus because it was too far from my house. At the bus stop I met a girl and she told me that she was in third year, which was the same year as me. We became good friends, I found out later that day we were also neighbours, so after school we would walk back to our houses together from the bus stop.
On the first day of school an Irish girl offered to show me around, that was kind. At the beginning I was a little confused as to where my classes were, but eventually I began to find my way around. I found the school a little smaller than my school back home, but it was very nice.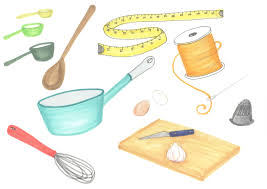 My favourite subject is Home Economics. I find it very interesting that they teach us how to knit, cook and sow all in one class.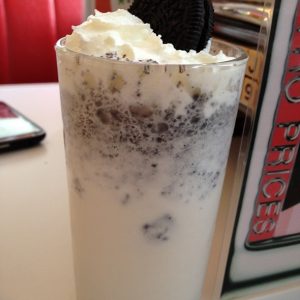 I made friends very quickly. The following weekend we went to the cinema to see 'it' and then we went to a place called 'Eddie Rockets'. I got a delicious Oreo milkshake there. I joined the gym and started rowing. I like to go to the gym after school when I have finished all my homework. I go to rowing lessons on Saturday and Sunday mornings.
I have been keeping busy during my time here. I went to Dublin with my Irish family, whilst there I bought some more clothes, two jumpers and one shirt. We went to a restaurant and had a lovely dinner. I was very full after.
A few days later we had our mid-term break from school, during that time I spent a few days with my friend Ella. We went to a huge shopping centre, unfortunately I didn't buy anything this time, but I still had a lot of fun. That evening we went to a birthday party. The next day they showed me around Dublin and we had food at a lovely Mexican restaurant.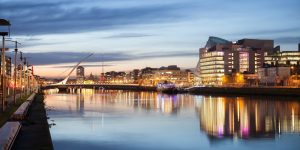 I had such a lovely time visiting different places.
I went back to my host family for Halloween, we had a little party and we watched some fireworks. We went to McDonald's that evening and had burgers and chips.
When I return home I am going to miss Ireland and all my wonderful friends I have made here. Although for now I am very excited about the rest of my stay and to continue improving my English.

Located in the centre of Ireland on the River Shannon, Athlone has a lot to offer. Whether you are looking for an action-packed weekend or a relaxing break there is something for everyone.
Athlone Castle is a very popular attraction. It is an interesting exhibition on the history of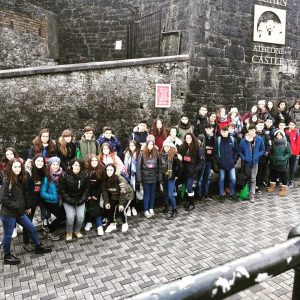 Athlone and the castle itself. The presentations are eye catching and our students visiting regularly enjoy the dress up area (any opportunity for a selfie!!). It is both very entertaining and informative.
If you move a little outside Athlone Town, Derryglad Folk and Heritage Museum is a little wonder. Here you can learn all about farm and folk life in Ireland from 18th century. This family run business houses a unique 25-year collection of over 5000 items. Time spent sharing stories only adds to the overall experience. It has something to interest everyone. A real gem!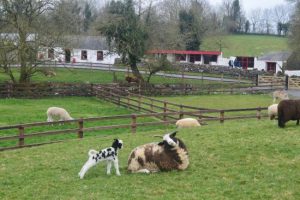 Glendeer Pet farm offers you animal interaction at its very best. It has something for every age group from cuddly farm animals to playgrounds and fairy trails. There's never a dull moment.
The church of St Peter and Paul is worth a visit. The stain glass is simply stunning and the church itself is very peaceful. It offers a warm friendly atmosphere in the centre of Athlone.
Athlone is home to Irelands largest water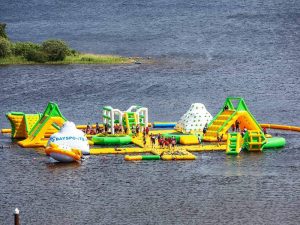 park, currently holding the Guinness world record for the worlds tallest floating slide. There's a wide range of activities to choose from such as kayaking, raft building and sailing.
Sean's bar, most famously recognised as Irelands oldest pub, is very popular with tourists offering traditional Irish music along with a wide array of their own beers and whiskeys as well as the usual pint of Guinness.

Finally, be sure to enjoy a boat trip on the River Shannon. Viking boat tours offer a wonderful experience with beautiful views of Lough Ree.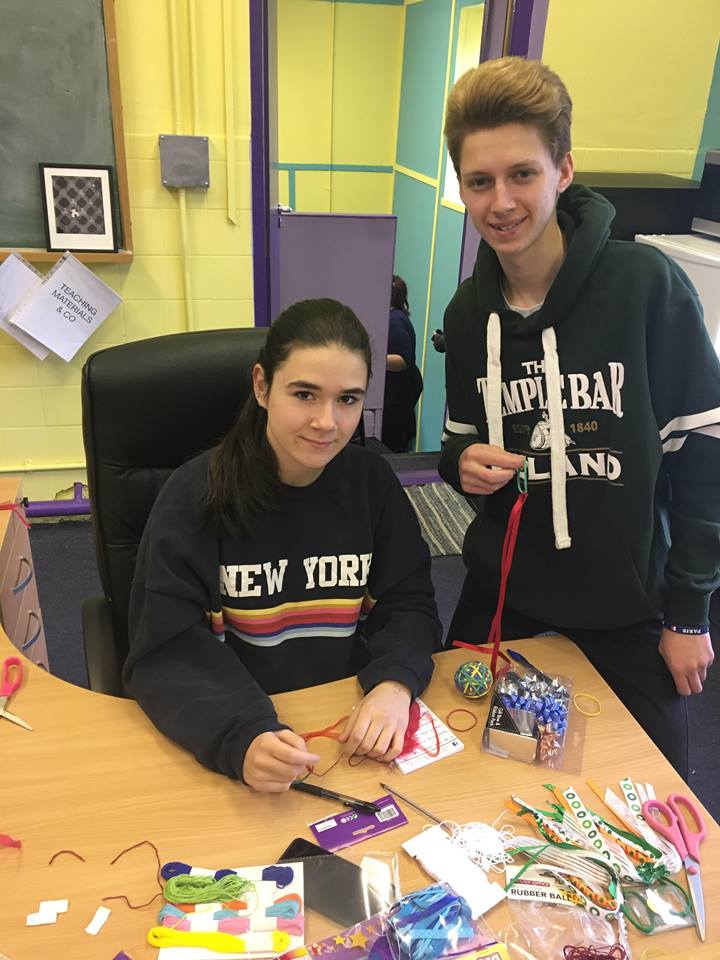 My name is Esther I am fifteen years old and I am from Spain. I am staying here in Ireland for the school year. I am a transition year student at Athlone Community College. As part of my transition year programme. I am working here at Shannon Academy for one week. I work with Caoimhe, Aisling, Annette and Tory, I settled in right away, they made me feel very comfortable.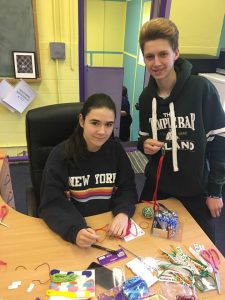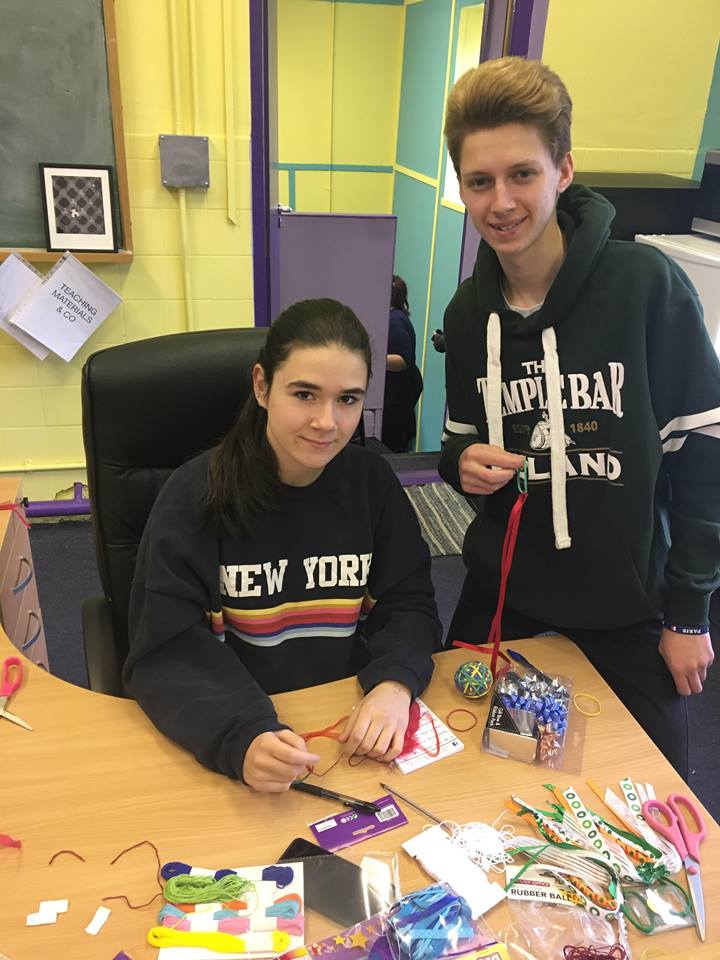 My work here involves many different aspects. I organised all the books and the uniforms for the academy. I then had to transfer all the information onto the computer system. I prepared some of the bus passes for the students, on each pass I had to put the student's name and other information such as their host family address, contact number and the bus stop name. I translated a letter from Spanish to English for the academy. I also helped prepare for St. Patrick's day which allowed me to get a little creative.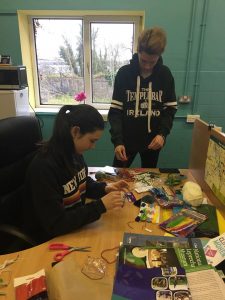 My experience working here was excellent and I would like to thank Caoimhe and all the staff working at Shannon Academy for helping me out and making it such an enjoyable experience.