My name is Juan Pedro Martinez and I am going to tell you a little bit about my experience in Ireland so far. I travelled to Ireland on 26th August 2017. The first day I was nervous and fearful I did not know what to expect until I reached Athlone. When I arrived I began to feel a lot calmer. My family were so welcoming from the beginning and treated me so well. I really love my family. In my host family there are five members including three children all boys aged 8,11,16. They are all very kind. I found the first week difficult adapting and settling in to my new routine.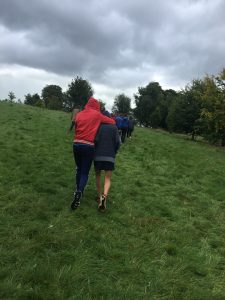 Mealtimes
Breakfast 7:30 a.m.
Lunch: 1:00 p.m.
Dinner: 6:00 p.m.
Appetizer: 9:00 p.m.
School
The first day felt a little overwhelming, we received our books, we had various classes and met our teachers but I also made some friends so that was good. After a while I started to settle in and began to feel more comfortable and I met lots of new people. I will be doing two weeks work experience throughout the year. I think I would like to do mine in a cafe or hotel setting. I am looking forward to doing this because I think it will be a very good experience for me and I have never done anything like it before.
After school
On a Monday and Wednesday, I like to go to the swimming pool in the evenings. On Tuesday, Thursday and Friday I usually go to the gym straight after school.
Weekends
At the weekend I also keep very busy, on a Friday evening I go out with Spanish friends and from time to time Irish friends come as well, we go to the shopping centre or to the park. On Saturdays we almost always visit somewhere different such as Dublin, Galway or Tullamore. On Sunday we usually have a party with both Spanish and Irish.
At Halloween my parents and my uncle came to Ireland to visit me. When my uncle came we went to Dublin for the first two days. Then we spent two days in Athlone. With my parents we spent one day in Dublin and three days in Galway, while there we visited Kylemore and the Cliffs of Moher. We spent our last day together in Athlone with my host family.