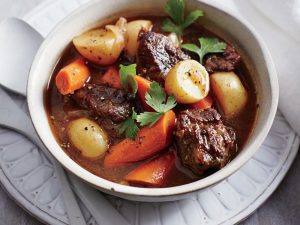 On your trip to the Emerald Isle why not try out some of our top Irish dishes. Traditional Irish stew, in the past would have been very basic made with mutton, barley and potatoes all fresh ingredients but now as there are more ingredients available than in the past some recipes slightly differ. Nowadays, it is regularly made with beef as an alternative then combined with potatoes, onions, and carrots. The selection of herbs and added stock provide a one pot wonder full of flavours that most certainly should be tried.
Potatoes are undoubtedly Irelands staple food. We boomed with this economical and plentiful food supply. But later declined when blight hit the potato harvest, however they are still very essential to the Irish diet and are in most of our dishes.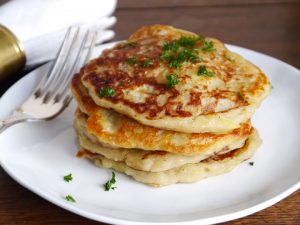 A 'boxty' is another form of potato it can be referred to in different ways such as a potato pancake, potato bread or a potato dumpling. It consists of grated raw potato mixed with mashed potato and mixed with flour and salt before being sliced and boiled in butter.
Another potato-based dish is colcannon. It has even become popular around the world, it usually consists of kale or cabbage mixed with hot creamy mashed potatoes. Despite the simplicity of the dish it is delicious and very popular.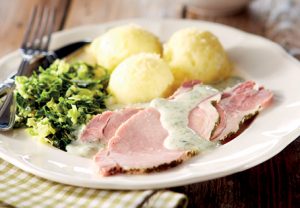 Boiled bacon, cabbage, and boiled potatoes is a firm family favourite. Parsley sauce is a classic accompaniment. This dish is highly associated with Ireland.
'Coddle' is another popular meal that can be found easily around Dublin. Hence, it is traditionally known as a city dish. Although recipes differ slightly there are again three main ingredients bacon, sausages, and potatoes.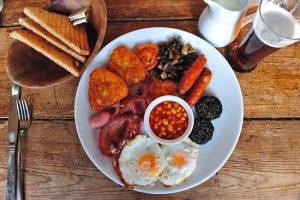 One of the mornings why not try an Irish breakfast although it may not appeal to everyone it is most certainly something different to try and very unusual to many cultures and as the saying goes when in Ireland do as the Irish do. Although this originates from England the Irish have made it their own. In general, this consists of bacon, sausages, eggs, fried tomatoes, mushrooms, hash browns, white and black pudding, and baked beans. Toast and teas are essential sides for this national favourite.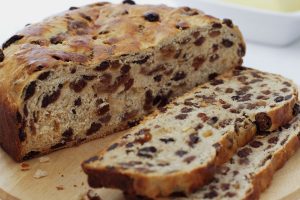 Other Irish delicacies to try whilst on your trip would be Barmbrack. This popular bread is an Irish Halloween custom. It is a sweet type of bread filled with raisins, sultanas and usually served with a cup of tea, it can be found in many cafes. Us Irish also love our soda bread, it is a form of quick bread some recipes differ slightly, but the basic ingredients remain the same along with the way it is eaten cut and spread generously with butter.
From lamb in the Spring, to fish in the summer to stews and soups in the winter and of course potatoes at almost any time of the year there is most certainly something for everyone.