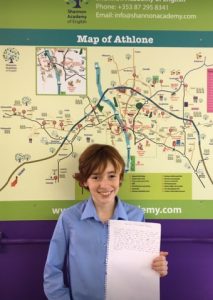 I spent a great weekend with my host family. On Friday 14thOctober we all went to stay in a hotel for the weekend. This was to celebrate their Grandmother's Birthday all together.
On the first night we went to the restaurant in the hotel where we enjoyed some delicious food. The next morning, when we got up we had a lovely breakfast in the hotel. For my breakfast I had eggs, sausages, and some orange juice.
After breakfast I went with the boys to play a few games of pool. When we finished we went see their Uncle. The boys decided to go swimming, but I did not want to go so I stayed and read my book. The next day we enjoyed playing lots of different games. We had a lot of fun hanging out together.
We had to leave early in the afternoon as Ireland were expecting a Hurricane on the Monday morning.