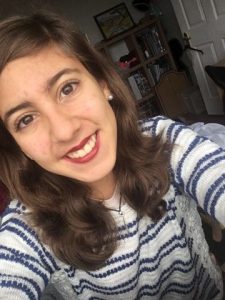 I arrived in Ireland on the 26th of August. My host mum Kay picked me up. I thought the house was big and comfortable. The family were very nice to me and I liked the dog a lot. The first week I went to a football match, it was very cold, but I really enjoyed it.
I started school a week after I got here. The teachers and the students were very welcoming, and I made friends the first day.
My favourite subject is English. The teacher helps me a lot and so do my classmates.
I started going swimming after school some evenings, other evenings I would go to the gym. On Thursdays, I go to Pilates with my host mother and sister (Katy).
I am doing well in school. I have a lot of study to do for the exams coming up.
At the weekends I meet with my friends and we go to town, have a hot chocolate or to a house to watch a movie. I video chat with my mum in Spain often and with some friends too. I am getting used to the cold and rainy weather in Ireland, but I do at times miss the sunny days in Spain.
On midterm break my family (mum, dad, sister, aunt, and cousin) came to Ireland to visit me for a couple of days. We stayed at a hotel in Dublin. My Irish host parents met my family. During the week, we visited the Cliffs of Moher, it was amazing! In Dublin City we did a lot of different tours. My family left on Wednesday and I was quite sad saying goodbye but I soon felt better again. The rest of the break, I met my friends at Eddie Rockets and I did my homework.
I went back to school and soon got used to getting up early again. In December, there is going to be a talent show in the school and I am going to participate in it playing the ukulele and singing, it will be fun! Last week I went to an aqua fitness class in the swimming pool, it was good, but very tiring! My experience in Ireland so far has been very interesting and enjoyable! I am learning a lot and I would recommend it!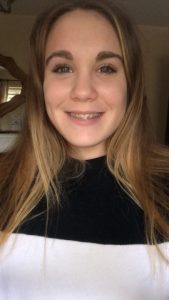 My experience in Ireland has been enjoyable so far. I have been very lucky with my family and I already love them. The first day I found everything a little bit strange. We were all very tired from the journey and I just wanted to go to bed.
After one week settling in I started school. I can't say it was a good experience the first day, because it wasn't. I was completely lost and there were times when I felt lonely, I didn't know anybody, and I found it a little difficult to explain what I wanted to say. Although it was good because my first day at school was on a Friday so that meant I had the weekend to rest and prepare for the week ahead.
The first week of school as you can imagine, again I was a little lost. I had to ask everyone where my classes were because I found it confusing but I did make two Spanish friends who helped me out a lot.
Over here in Ireland I am attending an all-girls school. This is new to me because back home I attend a mixed school. I must wear a uniform whereas in Spain I don't. The level of subjects I would say is much easier. I am in 5th year and I am doing what I was doing in 3rd of ESO in Spain. After the first week I began to settle in and feel more comfortable.
At first, I didn't mind the weather but when November came there was a drop in the temperature and I found it very cold. Then there are days it rains a lot and that makes me miss the sun. I do miss the Spanish weather. I really enjoy the views of the countryside, there is so much greenery and farms everywhere it is very beautiful.
I would recommend that anybody going abroad to study, not to be shy, to say what you think and not to keep your problems to yourself. People are so willing to help. It is also important to speak as much English as possible, even if you don't think you can, you must try to improve your English. Finally, I think reading a lot of English is beneficial and being in class will help you improve your writing and listening skills. I feel I have become more independent and this experience has helped me to become more confident.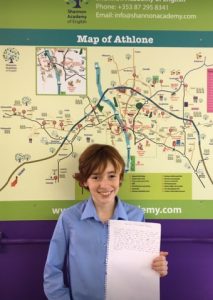 I spent a great weekend with my host family. On Friday 14thOctober we all went to stay in a hotel for the weekend. This was to celebrate their Grandmother's Birthday all together.
On the first night we went to the restaurant in the hotel where we enjoyed some delicious food. The next morning, when we got up we had a lovely breakfast in the hotel. For my breakfast I had eggs, sausages, and some orange juice.
After breakfast I went with the boys to play a few games of pool. When we finished we went see their Uncle. The boys decided to go swimming, but I did not want to go so I stayed and read my book. The next day we enjoyed playing lots of different games. We had a lot of fun hanging out together.
We had to leave early in the afternoon as Ireland were expecting a Hurricane on the Monday morning.