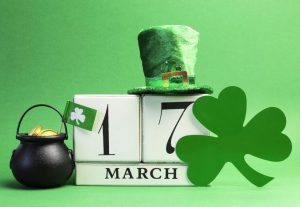 With St. Patrick's day fast approaching we thought we would provide you with some typical Irish phrases that you may hear over the upcoming Bank Holiday weekend. St. Patrick's day is a cultural and religious celebration for Irish people. On St. Patrick's day people usually attend parades that take place all over the country. Celebrations are generally themed around all things Irish and all things green.
There are many wonderful stories about St. Patrick some are true some are untrue. The most famous legend is that he drove the snakes out of Ireland. This did not happen, but the Irish will tell you that you cannot find a snake throughout the entire country of Ireland.
Firstly if somebody is referred to as 'acting the maggot' which is sure to happen this weekend. It simply means they are up to no good.
When you hear somebody is 'happy out' they are very content in their current surroundings.
Now 'awful good' is a phrase used by the Irish. However, when used in these terms it in fact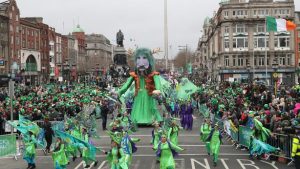 means 'very' not awful. Us Irish like to make things confusing. While we are on the subject 'quare' can also mean 'very' something may be referred to as being 'quare good'.
If you happen to be at a parade over the weekend and are questioned 'was it any use?' it simply means 'was it any good?'
'Ara' is an expression used from the country that fits before your name usually it can be used if a person doesn't believe you, is disappointed, surprised, or really any other feeling.
'It's grand' is a very common phrase used by Irish on a day to day basis, simply meaning it's fine, it does the required task.
If you are told 'the craic was 90' this refers to the fun and atmosphere being excellent.
'I will yeah' is commonly said in response to a person when asked to do something which they have absolutely no intention of doing.
Finally whilst in Ireland you may be offered 'a bag of taytos' but there's no need to worry you are just being asked if you would like a packet of crisps.
My name is Clara I am fifteen years old and I am staying in Ireland, I am living in Tullamore, in County Offaly. It is near Athlone.
I arrived in Ireland on 30th August. At the beginning I was a little confused and homesick. My host family really helped me settle in and I started to feel a lot better. My family are lovely, they help me out a lot and always make me feel happy. The mum is a very good cook and her food is always delicious. I am enjoying my stay so much.
I am in 5th year attending a girl´s secondary school which is unusual for me because in Spain I attended a mixed school. I find some subjects a little bit difficult, but the teachers are very helpful. They understand that in Spain we have some of the same subjects but also different ones such as Home Economics which I find interesting. I find Maths in school pretty easy.
When I finish school my host mum collects me and then we all have our dinner together. Generally after dinner we talk and have a chat about the day. Then I do my homework and go to the gym or pool with my Spanish friends. When I come back to the house I eat something small, sometimes I read a little and I write a journal about my day.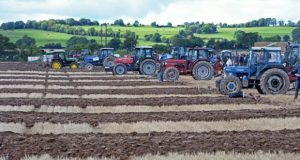 I have visited lots of places and done various activities while I have been here. I went to the National Ploughing Championship, whilst there I met some of my Spanish friends that are in Longford. The National Ploughing Championship is an outdoor agricultural show in Ireland including a ploughing contest. It is held every September, it is extremely popular and draws over 1500 exhibitors and achieves attendances of over 200,000.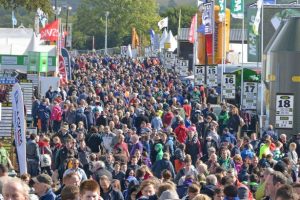 I have been to Athlone shopping for the day and to hang out with my friends. Also, some Fridays after school I go to McDonald's with my friends. I have discovered a lot of new places such as Dunnes Stores, Tesco, Eddie Rockets, Supermac's or Papa Johns for some lovely food.
The best aspect of being over here is that I have met a lot of incredible new people that are so willing to help and now we are like a little family. I also feel I am more independent and confident among many other things. I am excited for the rest of my stay here in Ireland and to discover more about the country and culture.
My name is Juan Pedro Martinez and I am going to tell you a little bit about my experience in Ireland so far. I travelled to Ireland on 26th August 2017. The first day I was nervous and fearful I did not know what to expect until I reached Athlone. When I arrived I began to feel a lot calmer. My family were so welcoming from the beginning and treated me so well. I really love my family. In my host family there are five members including three children all boys aged 8,11,16. They are all very kind. I found the first week difficult adapting and settling in to my new routine.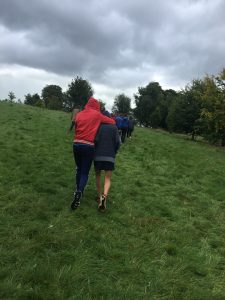 Mealtimes
Breakfast 7:30 a.m.
Lunch: 1:00 p.m.
Dinner: 6:00 p.m.
Appetizer: 9:00 p.m.
School
The first day felt a little overwhelming, we received our books, we had various classes and met our teachers but I also made some friends so that was good. After a while I started to settle in and began to feel more comfortable and I met lots of new people. I will be doing two weeks work experience throughout the year. I think I would like to do mine in a cafe or hotel setting. I am looking forward to doing this because I think it will be a very good experience for me and I have never done anything like it before.
After school
On a Monday and Wednesday, I like to go to the swimming pool in the evenings. On Tuesday, Thursday and Friday I usually go to the gym straight after school.
Weekends
At the weekend I also keep very busy, on a Friday evening I go out with Spanish friends and from time to time Irish friends come as well, we go to the shopping centre or to the park. On Saturdays we almost always visit somewhere different such as Dublin, Galway or Tullamore. On Sunday we usually have a party with both Spanish and Irish.
At Halloween my parents and my uncle came to Ireland to visit me. When my uncle came we went to Dublin for the first two days. Then we spent two days in Athlone. With my parents we spent one day in Dublin and three days in Galway, while there we visited Kylemore and the Cliffs of Moher. We spent our last day together in Athlone with my host family.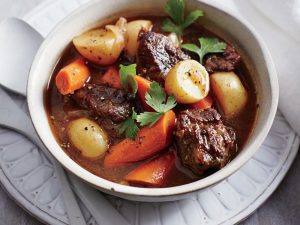 On your trip to the Emerald Isle why not try out some of our top Irish dishes. Traditional Irish stew, in the past would have been very basic made with mutton, barley and potatoes all fresh ingredients but now as there are more ingredients available than in the past some recipes slightly differ. Nowadays, it is regularly made with beef as an alternative then combined with potatoes, onions, and carrots. The selection of herbs and added stock provide a one pot wonder full of flavours that most certainly should be tried.
Potatoes are undoubtedly Irelands staple food. We boomed with this economical and plentiful food supply. But later declined when blight hit the potato harvest, however they are still very essential to the Irish diet and are in most of our dishes.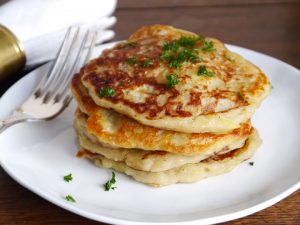 A 'boxty' is another form of potato it can be referred to in different ways such as a potato pancake, potato bread or a potato dumpling. It consists of grated raw potato mixed with mashed potato and mixed with flour and salt before being sliced and boiled in butter.
Another potato-based dish is colcannon. It has even become popular around the world, it usually consists of kale or cabbage mixed with hot creamy mashed potatoes. Despite the simplicity of the dish it is delicious and very popular.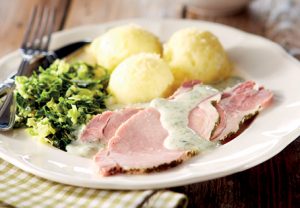 Boiled bacon, cabbage, and boiled potatoes is a firm family favourite. Parsley sauce is a classic accompaniment. This dish is highly associated with Ireland.
'Coddle' is another popular meal that can be found easily around Dublin. Hence, it is traditionally known as a city dish. Although recipes differ slightly there are again three main ingredients bacon, sausages, and potatoes.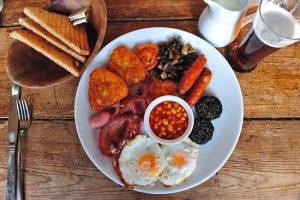 One of the mornings why not try an Irish breakfast although it may not appeal to everyone it is most certainly something different to try and very unusual to many cultures and as the saying goes when in Ireland do as the Irish do. Although this originates from England the Irish have made it their own. In general, this consists of bacon, sausages, eggs, fried tomatoes, mushrooms, hash browns, white and black pudding, and baked beans. Toast and teas are essential sides for this national favourite.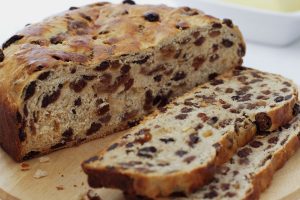 Other Irish delicacies to try whilst on your trip would be Barmbrack. This popular bread is an Irish Halloween custom. It is a sweet type of bread filled with raisins, sultanas and usually served with a cup of tea, it can be found in many cafes. Us Irish also love our soda bread, it is a form of quick bread some recipes differ slightly, but the basic ingredients remain the same along with the way it is eaten cut and spread generously with butter.
From lamb in the Spring, to fish in the summer to stews and soups in the winter and of course potatoes at almost any time of the year there is most certainly something for everyone.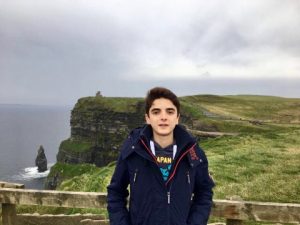 I was very excited and eager about coming to Ireland. So far, my adventure has been very enjoyable, many things have happened.
Initially I was a little homesick. I missed my family but with the help of my host family I started to feel better and every day I was a little less sad. When I started school, everything improved and I was a lot happier. I started going to St. Colmans school in Fermoy. Fermoy is a town half an hour from Cork. It is a very quiet town but because we are close to Cork I often go to different places with my family.
At school I have a great time, we do various classes, they provided us with a locker to keep my books safe and I like that we must wear a uniform every day, it means I don't have to worry about clothes. I also find it very comfortable. I have already made friends in school and during break time we play hurling and we talk. I also spend lunch time with them. I am already a specialist in various types of wraps. At school I have started playing soccer and basketball. This has allowed me to make more friends and speak more English. I love this.
I am really happy with my host family. They take very good care of me. I enjoy playing soccer with the children I live with. There's a field close to the house that we go to play football in regularly. We also enjoy trips to the cinema and every weekend we take a trip to a different place, I am seeing a lot of Ireland. The trip to Dublin was very funny, I liked it a lot.
I really like soccer a lot and they do too so it's good. We watch matches in the Irish league and Premier League on Saturday afternoons. I also really like the food over here.
My time in Ireland is now passing very quickly, I cannot quite believe that I have been here two months already and loving every minute of it.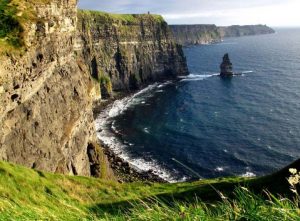 Take a trip to the West coast of Ireland and visit the Cliffs of Moher in county Clare. They offer breath taking views at the heart of the Wild Atlantic Way. This historical landmark is one of Ireland's most famous sights. From the edge of the cliff, this spectacular natural wonder will overwhelm you as you take in the tremendous scenery and hear the waves crashing against the stone below.
Whilst visiting the west coast of Ireland, take a trip to Galway one of Irelands most vibrant places known for its friendly people, charming streets, shopping, and nightlife. Enjoy the wonderful atmosphere this city has to offer.
If the views at the Cliffs of Moher leave you pining for more awe-inspiring views. The Ring of Kerry is a very popular tourist attraction in Ireland particularly busy during the summer months. It is arguably the most scenic day trip in Ireland that offers breath taking views and incredible scenery. For those interested in history the ancient medieval sights are also fascinating. The main reason to visit is to see the beautiful Irish landscape and its coastline.
Another popular place to visit is the Blarney castle built nearly 600 hundred years ago it is a world landmark and one of Ireland's greatest treasures. The Blarney stone is the top attraction with tourists visiting the castle and climbing the tower to 'kiss it'. There is an understanding that those who do this will receive the gift of eloquence. On returning to the grounds of the castle enjoy time spent walking around the beautiful gardens.
Head north of Ireland to the Giants Causeway in County Antrim and take in the unique rock formation surrounded by a beautiful coastline.
A visit to Ireland would not be complete without a trip to Dublin city. Whilst there is the usual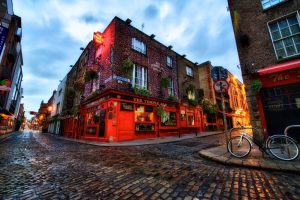 hustle and bustle of any other city, it is worth it to visit some of the capitals most famous attractions. Call into Trinity college to see the Book of Kells or enjoy a stroll around Stephens green park filled with lovely pathways, ponds and fountains located in the heart of the city. In summer time it's a popular location for people to enjoy the sunshine. Visit the Guinness storehouse for a pint of Ireland finest stout. While exploring the city visit one of our most famous landmarks Phoenix park. It is one of the largest enclosed spaces in any capital city in Europe, that alone would make it worthy of a visit.
Finally, a trip to Dublin would not be complete without spending some time in the city's famed Temple Bar area. This vibrant area is filled with bars and restaurants, cobbled pathways and it is renowned for being the cultural quarter of the city.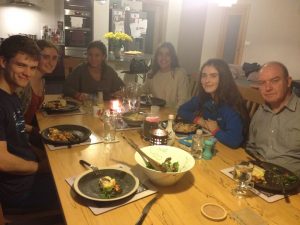 My name is Estela and I am 15 years old, I am from Seville in Spain. I came to Tullamore, Ireland at the end of August. I was a little worried because I had never done anything like this before. On arrival, my first impression was that the family were very nice and kind and the house was lovely.
The first day we arrived early so we had some food and they showed me around the town. If I'm honest I found the town to be a lot bigger than I had thought it was. That day I met my 'sister' Holly who is the same age as me and my 'mother'. My other 'sister' and 'dad' were not at home. In the first few days we did a lot of activities: we went for a lovely walk and I went out with Holly and her friends.
I am attending Sacred Heart in Tullamore it is a girl's school. On 31st of August I started school. I remember feeling very nervous. The first couple of hours I felt lonely however by lunch time I had already made two friends.
I am in Transition Year; the first two days were spent introducing us all. We did various activities, we were shown how to put on makeup for an interview, we learnt a dance and we also did some meditation. I really enjoyed it and I was happy because I made new friends. Normal classes began the following week. I also met another Spanish girl who is in transition year with me. I'm very happy in school. I received good news that Amalia (one of my friends from Seville) was coming to Tullamore.
School in Ireland is very different to what I expected, some of my subjects include Choir, music, Irish dancing, business studies, career guidance, community care and public access to law. Then we have different activities like setting up our own 'mini company' and a competition 'junk kouture' where we must design a wearable costume out of everyday junk or recyclable materials. Then I have Maths, English, French, and Science like in Spain. This year in school is certainly very different but I do think it is beneficial to prepare you for your future.
After school I do my homework and sometimes I go to the gym, play tennis, watch television or hang out with my host family. Around 7-8pm we have dinner, I find the food is very different to Spanish food, but it is nice.
We had a German student stay with us, he was nice I keep in touch with him and his friends that came here too. On their last day in Ireland we had a party at my house and it was a lot of fun. I really enjoyed the time with the German students.
During the past few months I have been busy I have visited Galway and Dublin. I've taken trips to Athlone many times and I have made new Spanish friends there. While visiting Galway I met my 'mothers' family. I attended my 'sisters' graduation. I enjoy going to the cinema with my Irish friends and Spanish girls from my school. My host family are always inviting me places with them. I am really enjoying my time here.
I am excited for the rest of this experience and to continue improving my English. I feel I have already improved so much in the short time I have been here. I love my host family; they made me feel part of their family from the very first day and I am going to miss them so much! They are so kind, and Holly is like friend to me. I am loving this experience.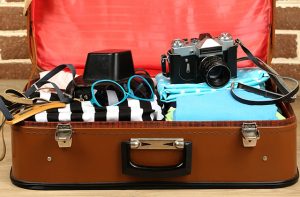 Packing for Irish weather can be very tricky, one minute the sun is shining and the next minute it's raining. There is a widely known expression 'There is no such thing as bad weather, only unsuitable clothing' Alfred Wainwright.
The best thing I can advise is to come prepared and pack for all seasons. The country is well known for being on the rainy side, however the sun does tend to make an appearance, often when it is least expected. So, I would advise that you pack for the sun and the rain that will follow or alternatively pack for the rain and the sun that will follow. When the rain stops (which it usually does) and the sun comes out, you will be completely overwhelmed by the beautiful scenery. The Irish sky after a little rain is rather striking.
The key to doing this is to pack layers, ideally the thinner the better. Include items such as vests, t-shirts, light jumpers, and of course a raincoat. Don't forget your sunglasses too for the bursts of sunshine that do occur.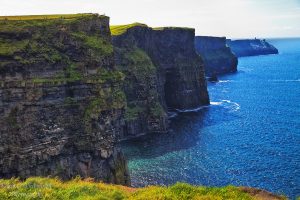 I would also recommend that you bring a sturdy pair of boots for exploring across the many farmlands and country lanes. They will be very much required once you leave the City streets and cobbled pathways of Galway and Dublin.
Other Items to include are a hat, an umbrella and a small bag to carry all your essential items around.
Finally, there is one thing visitors do expect when they come to Ireland and that is the spectacular scenery and believe me you will not be disappointed. You will most certainly want to pack a camera for your trip to the Emerald Isle to capture the beautiful landscapes and all that Ireland has to offer.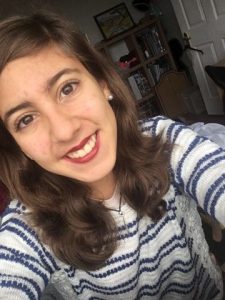 I arrived in Ireland on the 26th of August. My host mum Kay picked me up. I thought the house was big and comfortable. The family were very nice to me and I liked the dog a lot. The first week I went to a football match, it was very cold, but I really enjoyed it.
I started school a week after I got here. The teachers and the students were very welcoming, and I made friends the first day.
My favourite subject is English. The teacher helps me a lot and so do my classmates.
I started going swimming after school some evenings, other evenings I would go to the gym. On Thursdays, I go to Pilates with my host mother and sister (Katy).
I am doing well in school. I have a lot of study to do for the exams coming up.
At the weekends I meet with my friends and we go to town, have a hot chocolate or to a house to watch a movie. I video chat with my mum in Spain often and with some friends too. I am getting used to the cold and rainy weather in Ireland, but I do at times miss the sunny days in Spain.
On midterm break my family (mum, dad, sister, aunt, and cousin) came to Ireland to visit me for a couple of days. We stayed at a hotel in Dublin. My Irish host parents met my family. During the week, we visited the Cliffs of Moher, it was amazing! In Dublin City we did a lot of different tours. My family left on Wednesday and I was quite sad saying goodbye but I soon felt better again. The rest of the break, I met my friends at Eddie Rockets and I did my homework.
I went back to school and soon got used to getting up early again. In December, there is going to be a talent show in the school and I am going to participate in it playing the ukulele and singing, it will be fun! Last week I went to an aqua fitness class in the swimming pool, it was good, but very tiring! My experience in Ireland so far has been very interesting and enjoyable! I am learning a lot and I would recommend it!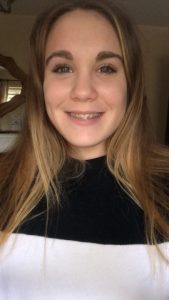 My experience in Ireland has been enjoyable so far. I have been very lucky with my family and I already love them. The first day I found everything a little bit strange. We were all very tired from the journey and I just wanted to go to bed.
After one week settling in I started school. I can't say it was a good experience the first day, because it wasn't. I was completely lost and there were times when I felt lonely, I didn't know anybody, and I found it a little difficult to explain what I wanted to say. Although it was good because my first day at school was on a Friday so that meant I had the weekend to rest and prepare for the week ahead.
The first week of school as you can imagine, again I was a little lost. I had to ask everyone where my classes were because I found it confusing but I did make two Spanish friends who helped me out a lot.
Over here in Ireland I am attending an all-girls school. This is new to me because back home I attend a mixed school. I must wear a uniform whereas in Spain I don't. The level of subjects I would say is much easier. I am in 5th year and I am doing what I was doing in 3rd of ESO in Spain. After the first week I began to settle in and feel more comfortable.
At first, I didn't mind the weather but when November came there was a drop in the temperature and I found it very cold. Then there are days it rains a lot and that makes me miss the sun. I do miss the Spanish weather. I really enjoy the views of the countryside, there is so much greenery and farms everywhere it is very beautiful.
I would recommend that anybody going abroad to study, not to be shy, to say what you think and not to keep your problems to yourself. People are so willing to help. It is also important to speak as much English as possible, even if you don't think you can, you must try to improve your English. Finally, I think reading a lot of English is beneficial and being in class will help you improve your writing and listening skills. I feel I have become more independent and this experience has helped me to become more confident.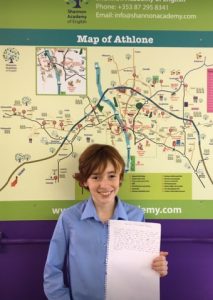 I spent a great weekend with my host family. On Friday 14thOctober we all went to stay in a hotel for the weekend. This was to celebrate their Grandmother's Birthday all together.
On the first night we went to the restaurant in the hotel where we enjoyed some delicious food. The next morning, when we got up we had a lovely breakfast in the hotel. For my breakfast I had eggs, sausages, and some orange juice.
After breakfast I went with the boys to play a few games of pool. When we finished we went see their Uncle. The boys decided to go swimming, but I did not want to go so I stayed and read my book. The next day we enjoyed playing lots of different games. We had a lot of fun hanging out together.
We had to leave early in the afternoon as Ireland were expecting a Hurricane on the Monday morning.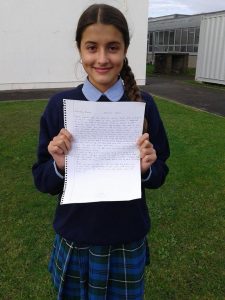 Adriana Torres is from Spain and she recently attended Our Lady's Bower Secondary School for 8 weeks as a first-year student. Here Adriana tells us a little about her favourite trip during her stay in Ireland. Causey Farm is located 10kms from the town of Kells in County Meath. They offer an authentic Irish family farm experience.
A few weeks ago, our group went to Causey Farm and we had a lot of fun. We all had such a good time together. The first activity of the day was baking brown bread. This was very enjoyable, we had to make it all by ourselves and when it was ready we all tasted some and it was so delicious.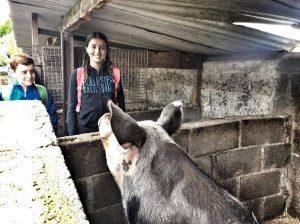 We then went to see the farm animals. We saw a lot of animals such as pigs, cows, ducks and hens. My favourite animal would have to be the cow, we all took turns to milk it and it was funny because  the milk came out very quickly.
After that we had an Irish dancing lesson and they also showed us how to play the Irish drum- the Bodhran and it was very funny because we didn't know how to do it at all.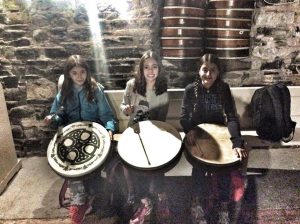 And the last thing we did and the part I liked most was bog jumping it was very enjoyable and really cool. We all got covered in mud and dirt and we were all looking silly by the end.
It was an exciting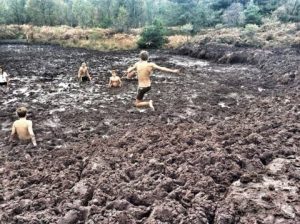 experience but when we got out of the bog it was very cold and we were all freezing, so we got changed and we went to have some food and a cup of tea to warm us up.
We then got back onto the bus and we left the farm, it was an unforgettable experience and we had a lot of fun, for me it was the best excursion ever.
Matilda Héndez is from Spain and she recently attended Our Lady's Bower Secondary School for 8 weeks as a first year student. Here Matilda tells us a little bit about a typical day attending the school.
We are in a beautiful school called Our Lady's Bower. It is a catholic school and it is an all girl's school. We do different subjects such as Home Economics, Art, History, Irish, Science, Religion, English, P.E, Maths, Geography, French, C.S.P.E and S.P.H.E.
My favourite subject is art, we do a lot of creative things in this amazing room filled with art work that has been designed by students from various classes.
At lunch time we eat at the canteen, I can either bring my own lunch or alternatively have food from the cafeteria. Once we are finished eating, one group of girls must clean and tidy the area. A group of girls are chosen weekly and take it in turns to clean up after lunch/ before the next class begins.
In the afternoon we finish school at 3.50 on Monday and Tuesday. We finish school at 3.10 on Wednesday, Thursday and Friday.
When school finishes I get back to my host family on a local bus that collects lots of other children from different schools as well.
I really hope I can come back again for another year.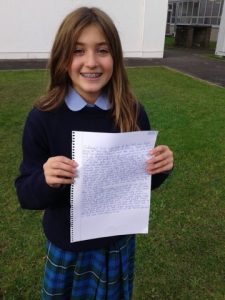 Laura Delgado is from Spain and she recently attended Our Lady's Bower Secondary School for 8 weeks as a first year student. Here Laura gives us an account of one of her favourite trips while in Ireland.
Our trip to Galway was one of the best ones so far. Before going into Galway city, we first went to Athenry Heritage Centre. There a woman told us all about Ireland's past. She then gave us some costumes to try on and we dressed up as Kings, Queens, warriors, princesses, and knights. She guided us through the castle. One place she brought us to which I particularly enjoying was the dungeon. There she showed us the different weapons they used to torture the thief's, criminals, liars, and she also showed us how they used them.
I found a lot of the weapons were very cruel and savage. So, people who lived in the middle age kingdom, really needed to listen, and do what they had been told to avoid getting locked up and tortured.
After that, we went outside to practice some archery. We split ourselves into two different teams; The dragons and the knights, this battle ended with the dragon's victory. We then got back onto the bus and continued on to Galway
After approximately an hour we arrived, we had lunch near a wild cold river. Laura showed us which street we were going to be on and allowed us some time to have a look around. The street was crowded and music invaded every corner. Watching people dancing, playing their instrument, or showing different talents made me feel happy. It really made me want to spend more time there on that joyful street. When it was time to leave we were all exhausted after walking up and down and having a look in EVERY shop. The trip to Galway was short but great and we all looked forward to next Saturday to arrive and to discover where that would take us.
My name is Laura Enjuto I am a group leader from Spain. I have been coming to Athlone for 9 years now and I have been working with Shannon Academy for 7 years. I like Athlone I find it's very good for the programme we are trying to run. This is a small town for us but at the same time it has everything we need, there are shopping centres, a cinema, a bowling alley, and there are schools of course. Basically, this is what we want. We want our students to go to school and for them to have places to go afterwards to enjoy their free time.
The people here are very friendly I have never had a problem with anybody and in fact I will say that I feel very secure, very protected and everyone is taking care of me especially those in Shannon Academy. Any problem I have is solved right away. I like coming here and working with the Shannon Academy staff, they are the best I must tell you the BEST. Athlone is great, it is a very handy town. The location is great, it's very central which is convenient for us because every Saturday we go on trips to different places such as Dublin, Galway or Kilkenny and we never have to travel far. My favourite aspect would have to be going out and enjoying the social scene. It has history as well and it's an interesting town. Without any doubt I would recommend Shannon Academy particularly because of the staff working here they are very friendly and provide anything you need at any time.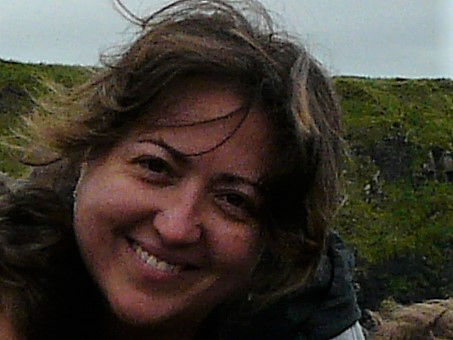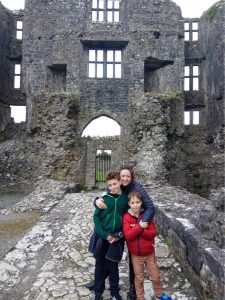 My name is Natalia Regueiro Leis. When I first arrived at Shannon Academy I was in a panic. Let me tell you why. I am a Spanish teacher from Galicia and came to study here for three months. The idea was to attend a course on Scientific English and to experience life in Ireland. I had everything arranged from Spain. I had gotten in contact with an English Language Centre, enrolled my two children into a local school and rented a house. However, two days before the classes were supposed to start, at this stage myself and my whole family were already settled in Ireland, a problem with the language centre arose which meant that I had to find a new language centre in a day.
Finding such specific tuition in so little time was more than stressful and as the hours passed the stress turned into panic. In a worried state I met Caoimhe, the director of Shannon Academy in Athlone. Not only did she immediately start to work on finding me a solution, but she was also sympathetic to me and trust me I needed it. In a matter of a few days, I was in class!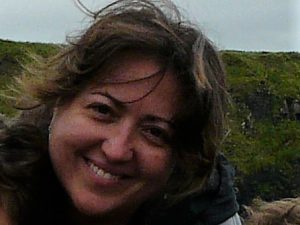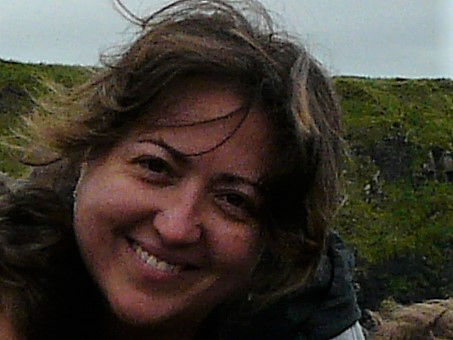 This centre does not specialise in Scientific English, but they have an advantage that no other centre has in the area. They are located on a secondary school premises and they co-operate with the school and its teachers on a regular basis. This has provided me, thanks to Shannon Academy, with the opportunity to meet the junior science teacher who has invited me to attend some of his lessons. This will be especially interesting and beneficial to me, as I will be able to observe the use of Scientific English language used in real context. I'm looking forward to experiencing this.
On the other hand, as there is no such thing as a scientific English course available, Shannon Academy have organised private tuition which consists of individual lessons. This way, the teacher, a very nice lady called Patricia-  can totally adapt her teaching to suit my needs. I must say that so far this is working very well, or should I say "grand". I am not only learning but I am also enjoying the lessons and it makes me feel happy that I still have ten more weeks of this.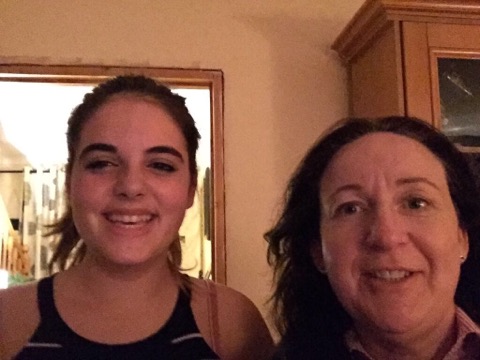 Our experience of being a host family to students
In 2001 we became a host family. We had a lovely girl named Anna stay with us for 2 weeks.
We loved the company and still do today 16 years later and of course the lovely gifts we received. We have grown to understand a lot more about other countries through the different children and leaders we meet each year.
My Children, over the years learned French and a little Spanish. This helped them with their exams.
We have friends made for life and keep in contact with them through Facebook or on what's app. We were even invited on holiday to Spain for 2 weeks to stay in their Summer house. I also love when they come to stay with us, as it gives me an excuse to spring clean everything. I enjoy cooking Irish dishes for them too.
I have been to many places with them, taken part in various activities and lots of sightseeing too. From Dublin to Trinity College, sight seeing in Kerry, Achill Island and Cliffs of Moher to mention a few. We, as a family, went to Killarney and had a lovely holiday together thanks to hosting students this Summer.
I really enjoy having the company on shopping trips and generally love learning about their culture and hearing about their cultural experiences with us in Ireland. Over many years I have been blessed with many good people staying in our home and I hope this will continue for many years to come. Good friends are like stars, you don't always see them but you know they are there!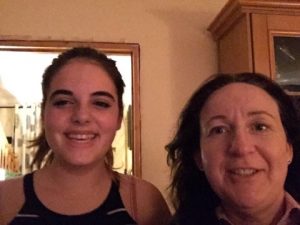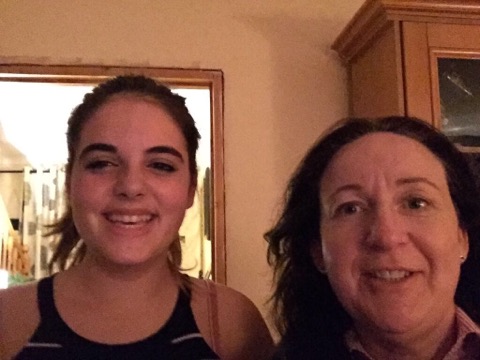 My experience in Ireland so far 10/10/17
This is Ainhoa Lopez-Larrainzar Salazar. Ainhoa is 15 years old, she is a Spanish student who is currently studying in Athlone, Ireland for the school year. She is a fifth year student in Colaiste Chiarain. This is a little piece on her experience in Ireland so far.
My experience in Ireland began on the 27th August when I arrived for my first night in Athlone. I liked my room on the second floor of the house. My suitcase was very heavy and Marguarita's son Daniel took it up to my room for me.
I arrived in Ireland earlier than I was due to start school. Marguarita was very kind and took me to lots of places so I didn't get bored. We went to the shopping centre and another day I met a Spanish girl whom I travelled over with on the aeroplane and we went out for the day.
When I started at the school everything was a little strange and different but I soon adapted and began to feel comfortable.
I love Ireland, I love the weather, I like the rain because in Spain it doesn't rain much. I really like my host family, they're very nice. Marguarita takes me anywhere I would like to go. I really like my new life here in Ireland. My host family are so lovely although sometimes I do miss my family and I would like to speak face to face with them back home in Spain.

We loved meeting Ciara and Jon when they visited the "Magical Midlands"!
Can't wait to see our lovely lakelands featured on The Holiday Show this Wednesday at 8pm on TV3!

Mikel (Spain) Alanna (Ireland) Nubia (Brazil) Agnes (Poland)
enjoying the snow in Athlone this morning!