Ireland is renowned around the world as the "Land of Saints & Scholars", due to its huge impact on culture (both religious and literary). In fact Ireland has three patron saints – Saint Brigid of Kildare, Saint Columba and, last but not least, Saint Patrick. Credited with the foundation of Christianity in Ireland, Patrick is the foremost patron saint and is a very important figure in Irish mythology (it is stated that he gave last rites to Oisin when he fell from his horse upon his return from dTír na nÓg). And as patron saint, Patrick's feast day is hugely important religious festival in the Irish calendar.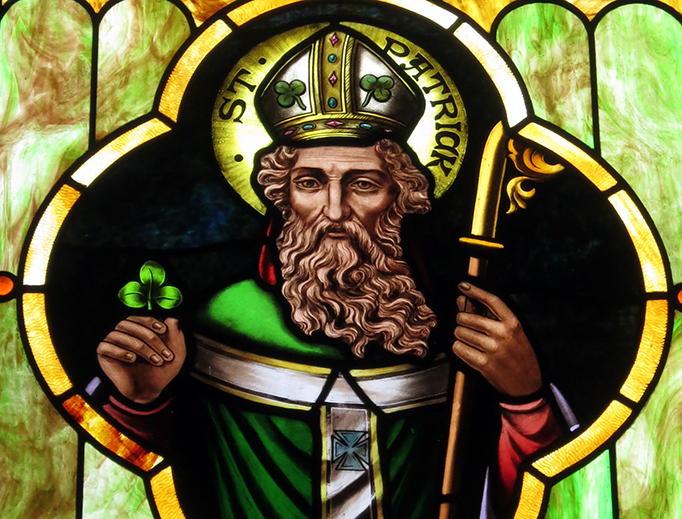 St Patrick's Day itself falls on March 17th, which is the supposed death day of this infamous cleric, however in more recent years the "day" has often turned into a weekend of cultural and religious celebrations.
This year in Athlone, the organising committee kept this in mind as they put together a wonderful timetable of events throughout the town! In fact it's been described as a "full weekend of festivities". Taking place over two days the St Patrick's Festival will begin on Saturday the 16th with a whole host of family friendly events. From 11am families will be able to meet the emergency services in Burgess Park so that any budding young paramedics or firefighters will get to meet these local heroes.
Burgess Park will also play host to some other wonderful events such as a terrific vintage display for any car enthusiasts. There will be a "Medieval Performance" and, local Magician & Mindreader, Oisin Foley will be there performing some insanely good magic!
The Civic Centre won't be left empty though, as there will be plenty of other events here. The Dirt Monkeys will be giving a hugely entertaining BMX and Scooter performance here from 11am. And a little birdie has informed us that there will be Ukulele Band rocking the square too!
From 12.30 on the 16th, this years' St Patrick's Day Parade will take place. Starting from Shannon Academy (or the old St Aloysius College) and travelling through the town to Burgess Park, this years Parade is expected to be absolutely SPECTACULAR! Featuring some old favourite local groups, and some very special guest floats on the day – this years' parade is expected to be the best parade Athlone has ever seen!
Following on from the parade though Burgess Park will be the main feature of the day! From 2pm, once the parade finishes, the park will be the site for a tremendous Guinness World Record Attempt!! The park is expected to be at near capacity with local people attempting to break the world record for the most amount of St Patrick's in one spot. And from all accounts, Athlone will be the new record holder.
And the weekend is not ending there!
On St Patrick's Day itself festivities will resume from 12pm with the Family Nature Treasure Trail which will take place along the greenway (from the White Gates out to Garrycastle). Then be prepared as "you're sure of a BIG SURPRISE", as there will be a wonderful Teddy Bear's Picnic taking place from 1pm in Garrycastle GAA.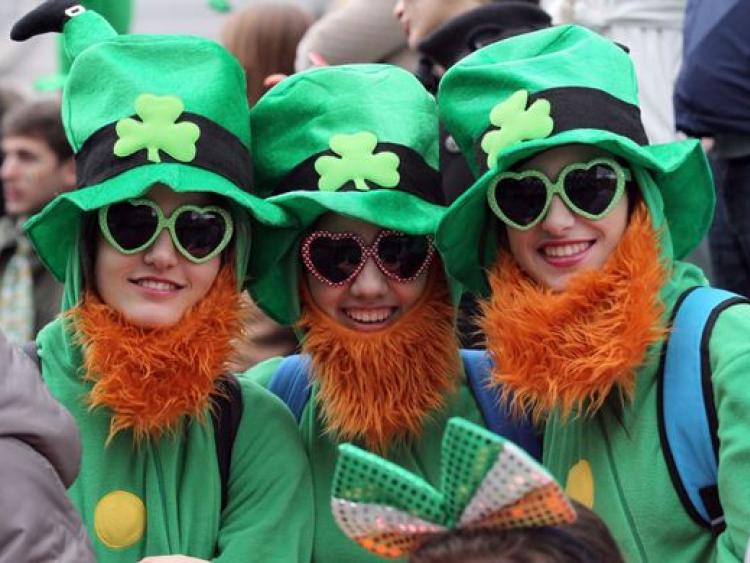 But that's not all; Athlone Institute of Technology will host the biggest American Football event since the Super Bowl, as the wonderful Westmeath Minotaurs will kick off against ferocious Galway Warriors from 2pm. This is something that you won't want to miss!
So as you can see, Athlone is where it's at this St Patrick's weekend. We advise getting in early on Saturday so as not to miss out on any of our fantastic festivities.

When one thinks of Irish cuisine things like potatoes, coddle, bacon & cabbage and stew often jump to mind. However, one of the most popular Irish foods is what we refer to as "Brown Bread". Irish Soda Bread, is commonly made using ingredients such as flour, baking soda (or bread soda), salt and buttermilk – it's the lactic acid in the buttermilk which reacts with the baking soda causing the bread to rise!
As time has progressed the recipes for brown bread have evolved with people often substituting Guinness instead of the buttermilk (which makes the bread the perfect side for a portion of Guinness Stew). And plenty of other recipes now include different seeds and nuts to increase the healthiness of the bread.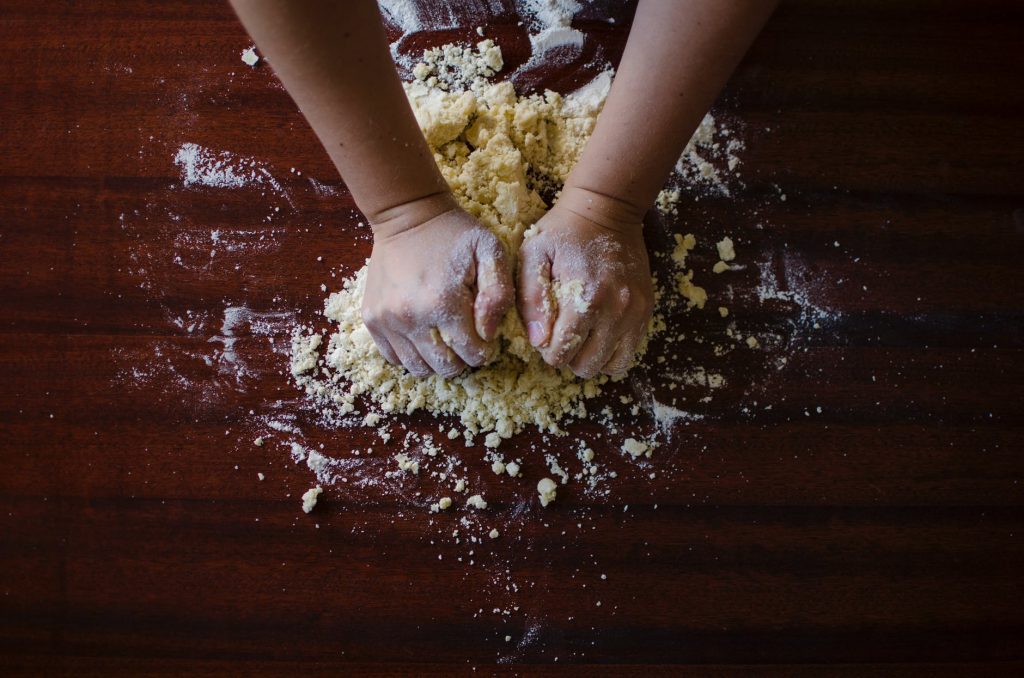 Traditionally though the recipe for the perfect brown bread is the following:
What you need
200g of Cream Flour
250g of Wholemeal Flour
1 teaspoon of Bread Soda
1 level teaspoon of salt
1 teaspoon of cream of tartar
25g butter
1 egg (beaten)
250-400 ml of buttermilk
How to:
Preheat the oven to 210°C / Gas Mark 7.
Lightly grease a deep cake tin or two loaf tins.
Sieve the cream flour, salt, bread soda and cream of tartar into a bowl.
Add the wholemeal flour and mix well.
Rub in the butter.
Mix the egg and buttermilk together, and add the liquid to the dry ingredients. Mix into a soft dough.
Turn onto a floured board and knead.
Place into the prepared tins.
Bake for 15 minutes approximately, before reducing to 190°C / Gas Mark 5 for a further 30 minutes.
When cooked it should have a hollowed sound when tapped from underneath.
Wrap in a clean tea towel, and allow to cool.
And there you have it! A traditional piece of Irish cuisine. Do try this recipe out, and of course experiment with it, adding seeds, nuts, porridge oats or even honey.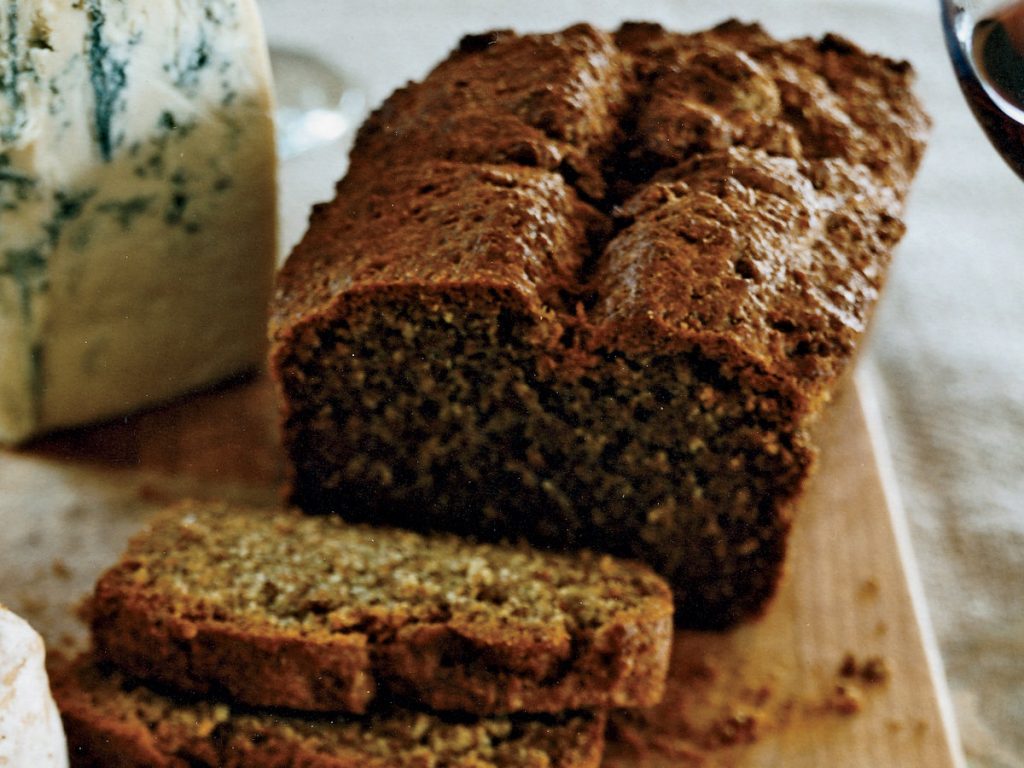 [
Featured image courtesy of foodandwine.com
]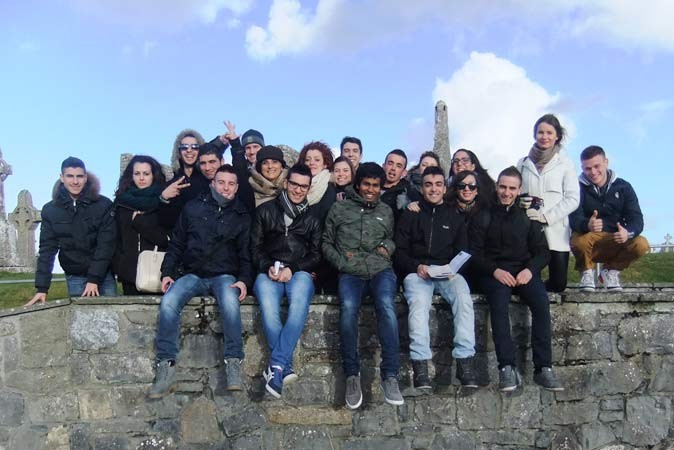 Mario tells us a little about his experience as a student in Ireland.
I arrived in Ireland on the 26th August and I went to my host family´s house. My first impression was that the family was kind.
I was a little worried at the beginning because I did not understand everything that they were saying to me, but the family helped me all the time. That day we went into town for a look around.
The first few days were enjoyable, the family showed me around the town, we attended a wedding party on a boat and myself and the father began building a bench.
On the September 3rd I started school. I knew people from different parts of Spain and different parts of Europe like Italy and Germany. I spoke with the director of my new class. After school when I get back home I always speak with the family about my day. On the second day in school I met a Spanish boy Ander, he is in my class and we are good friends.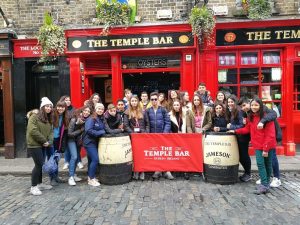 A trip to Dublin would not be complete without spending some time in the city's famed Temple Bar area. This vibrant area is filled with bars and restaurants, cobbled pathways and it is renowned for being the cultural quarter of the city.
Some of our students taking an opportunity for a photograph on their trip to Dublin City. Here they are standing in front of the Ha'penny Bridge, and then officially the Liffey Bridge. It is a pedestrian Bridge built in May 1816 over the River Liffey in Dublin. The bridge is 43 metres long and 3.66 metres wide. It is estimated that 30,000 people cross the footbridge every day. For 184 years it was the city's only pedestrian bridge across the Liffey.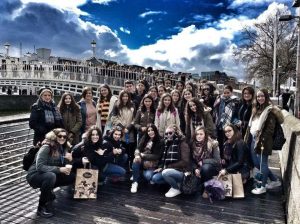 The River Liffey flows through central Dublin. The river was called 'An Ruirthech' in Irish, meaning "fast (or strong) runner" before it was called Liffey. It is the 8th longest river in Ireland. It major tributaries are the River Dodder, River Poddle and River Camac. The river supplies much of Dublin's water and a range of recreational activities.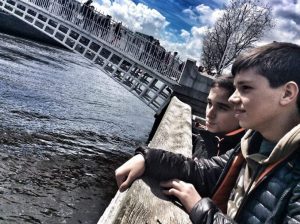 Our students regularly enjoy a stroll around St. Stephens Green park filled with lovely pathways, ponds and fountains located in the heart of the city. Particularly in the summer time it's a popular location for people to enjoy the sunshine.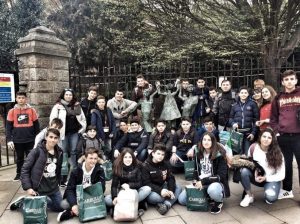 The students visit Trinity College to see the famous Book of Kells, which is an illuminated manuscript, gospel Latin book.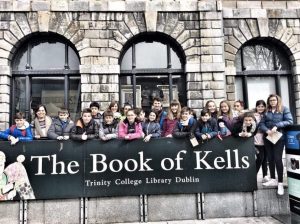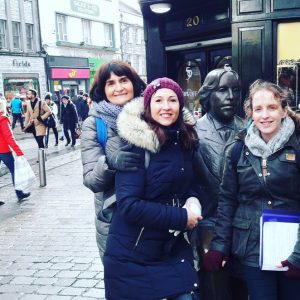 Our leaders and a Teacher from Shannon Academy on Grafton street, during a day trip to Dublin City. Grafton street in a closed pedestrianised area from Trinity College to St. Stephens Green with high end boutiques, cafes, restaurants and tourist shops.
A visit to Ireland would not be complete without a trip to Dublin city. Whilst there is the usual hustle and bustle of any other city, it is worth it to visit some of the capitals most famous attractions.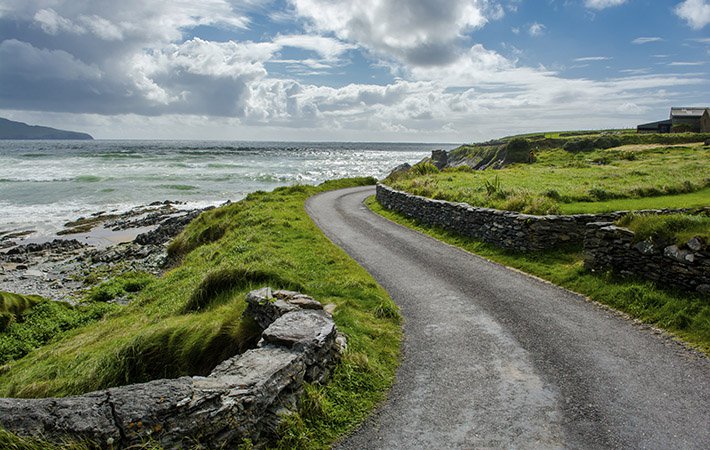 1. For every mile of road there are 2 miles of ditches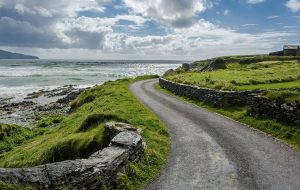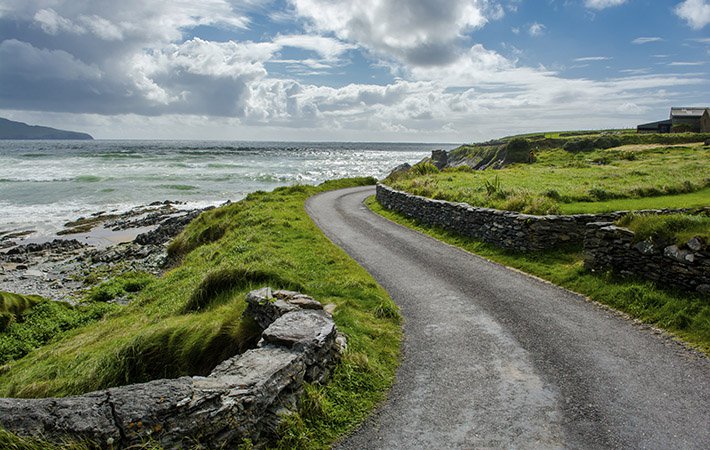 Meaning: There are two sides to every story.
2. There is no use boiling your cabbage twice
Meaning: Stop going over and over worries in your head because it solves nothing.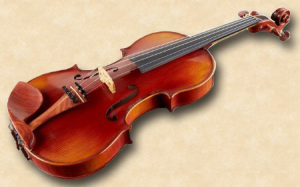 3. The older the fiddle the sweeter the tune
Meaning: Things and people improve over time.
4. A woman planted feathers in a dunkel and thought she had grown hens
Meaning: Just because you 'thought' something would work out doesn't mean you were right.
5. It's often that a man's mouth broke his nose
Meaning: Watch what you say because it could get you in trouble
6. As the old cock crows the young cock learns
Meaning: Children learn by example
7. If there was work in the bed he would sleep on the floor
Meaning: Used to describe people who are very lazy
8. No need to fear the ill-wind when your haystacks are tied down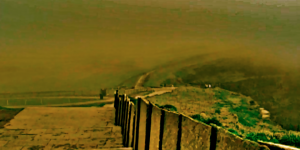 Meaning: Once you have prepared properly then there's no need to worry the outcome
9. The longest road out is usually the shortest road home
Meaning: If you invest time and effort into something it will pay off in the latter end
10. You will arrive back with one arm longer than the other
Meaning: You are heading out on a thankless quest. You'll arrive back with nothing to show for it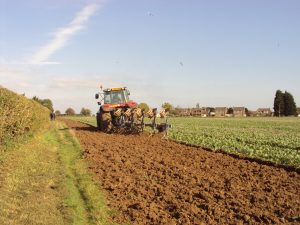 11. You will never plough a field by turning it over in your mind
Meaning: Merely thinking about something won't get it done
12. He didn't lick it off a stone
Meaning: Peoples actions are influenced by those around them

Ireland is home to many famous faces.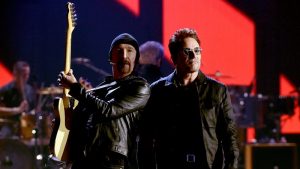 Bono is well known worldwide for being the lead vocalist for the Irish band U2. He was born in Dublin, Ireland and his family home is in Ballymun,which is located north-side Dublin.The obscenely rich Irish musician has since moved to the celebrity hotspot of Killiney with his family into a lavish Vico Road mansion.
Dalkey is filled with many famous Irish musicians such as 'Brown eyed girl' singer Van Morrison.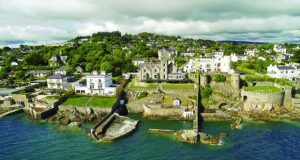 The Belfast born singer owns a luxurious house on Sorrento Road in Dalkey. Chris de Burgh, most probably recognised for his hit song 'Lady in red' is set to move from his sprawling Wicklow mansion to the posh suburbs of Dalkey. At one point it was thought that David Evans, better known as The Edge and guitarist for Irish band U2,owned the most expensive house in Ireland 'The Fortlands', a mansion in upmarket Killiney. He also owns a house in nearby and extremely popular Dalkey Village.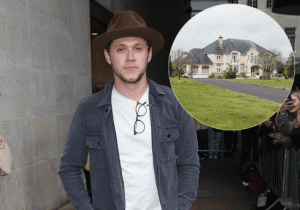 The family home of Niall Horan, a multi-millionaire at 24, after achieving huge success with boy band One Direction is in County Westmeath. Niall ensured he stayed true to his roots, by purchasing a mansion and the surrounding 10 acres just outside his native Mullingar. The house boasts a heated outdoor swimming pool and accompanying pool house. Tucked away behind iron gates, it's very likely he will need to improve the security since he's worth an estimated 44 million euro. This is just another purchase to add to his properties in both London and Hollywood.
Michael Flatley best known for his 'Lord of the dance' musical production owns a luxurious
Castlehyde house. It is the most expensive property located in County Cork near Fermoy. It is renowned as one of the finest structural restorations of a historic Irish home. He currently lives in the beautiful area of Dalkey.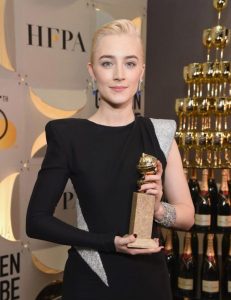 Saoirse Ronan who currently holds the 2018 Golden Globes award for best actress, has recently sold her home in Howth. The house is said to be located close to the sea, with some of Dublin's finest seafood restaurants within walking distance, along with shops and cafes. It is notably within reach of the famous Howth Clifftop walk. It is now believed she has purchased a house down the coast in Greystones, County Wicklow.
Rugby star Brian O'Driscoll and actress wife Amy Huberman are looking to renovate their 1.8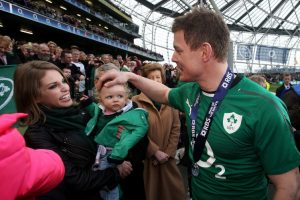 million home on Palmerstown road, Rathmines, County Dublin. The revamp is said to include a new three-story rear extension.
UFC fighter Conor McGregor is living in County Kildare. The house is estimated at a value of 2 million euro, his Lady castle estate is located on the grounds of the K Club in Straffan a 5 star luxury resort.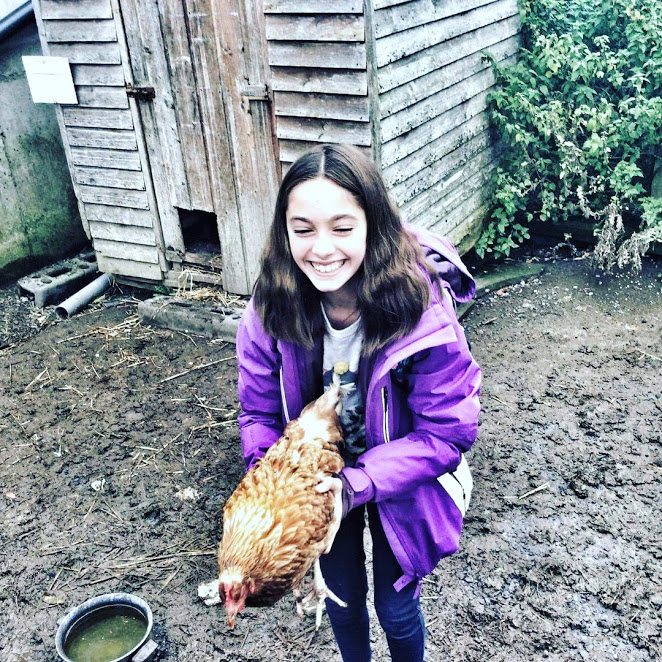 Our students regularly take trips to various places throughout their time in Ireland. Here is an account of a day trip to Causey Farm, which is located in Navan, in County Meath.
Causey Farm offers a variety of activities and a wonderful day out for our students, leaders and teachers. Activities include bread making, sheep herding, traditional dancing, bodhrán playing, animal petting, puppy loving, calf birthing and bog jumping. There is something for everyone.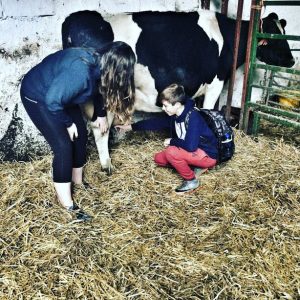 The students particularly enjoyed having the opportunity to milk the cows. This activity was filled with nervous laughs and giggles from start to finish.
"We all found this very funny"
"The milk came out really really quickly"
"My favourite animal was the cow"
The students are immersed in the Irish culture throughout their time visiting the farm. They take part in an Irish dancing lesson and they learn how to play the Bodhrán. The Bodhrán is an Irish frame drum, although common in Ireland, it has gained popularity among the Celtic music world.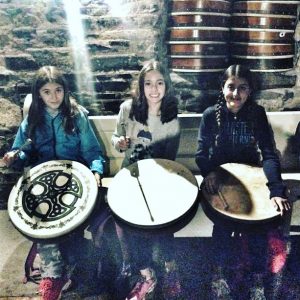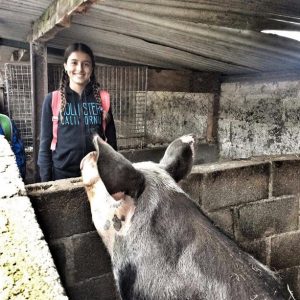 The petting farm is an aspect thoroughly enjoyed by the students, they get to see lots of different animals.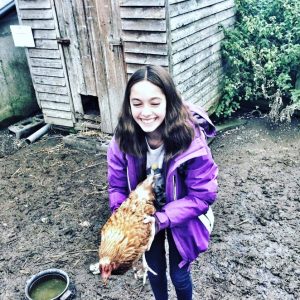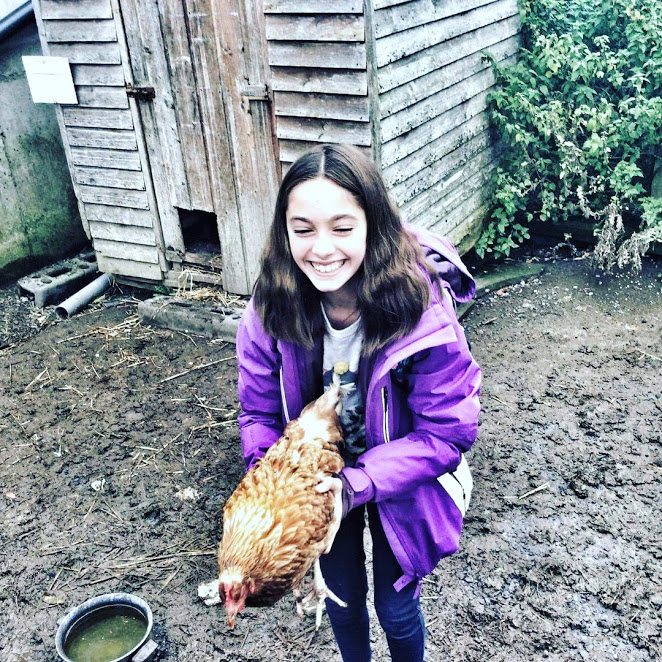 " It was strange being able to hold a chicken like that… It was really funny, I had never done that before"
" The pigs were a little smelly and some of them were so big, I couldn't believe it"
The students enjoyed a morning of bread making. They had to bake bread all by themselves. When they had finished, they all tasted and tested each other's. A lot of laughs and giggles were had, as they discussed who had made the nicest bread and who had made the worst.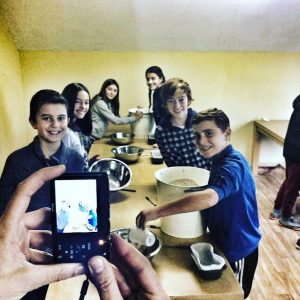 "The bread I made was so delicious"
"It was really fun to make the bread, it was my first time"
To finish off their day at Causey Farm, the students enjoyed an afternoon of bog jumping.
"The activity I liked and enjoyed the most was getting into the mud"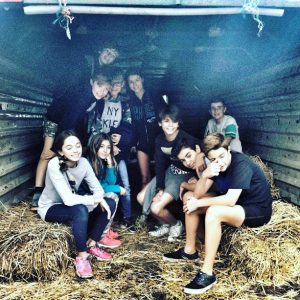 "We all looked really funny covered in mud"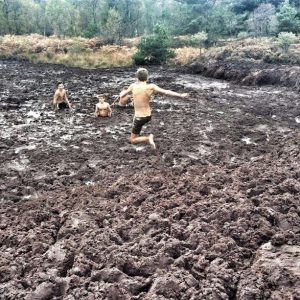 "Causey Farm, for me was an unforgettable experience and a lot of fun"
"It was the best excursion ever"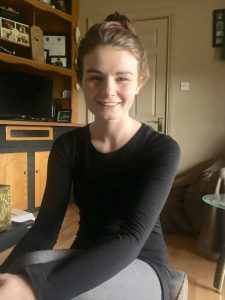 Hi! My name is Laura and I am part of the team here at Shannon Academy of English. My experience working here has been nothing short of excellent. My role within the academy includes teaching and facilating activities and trips for our students. Our program sees a number of students from different countries arrive each week. Each group of students are different, but one thing they have in common is their excitement and enthusiasm to learn and practice their English here with us and also to explore what Athlone and Ireland has to offer.
Working here is very diverse and no two weeks are the same. A week with us could see a visit to the amazing Cliffs of Moher, learning the skills of Irish sports or an adventure around Galway or Dublin City. With a wide range of activities on offer, students are always busy and are constantly practicing their English. As a graduate of a modern languages degree from the National University of Ireland Galway, I know how difficult it can be to learn a foreign language and I personally believe that immersion is the key to language learning. Therefore I think that with our friendly bunch of staff, welcoming host families and detailed English syllabus each student can benefit hugely from their time here with us at Shannon Academy.
Since I began working here, I have also learned a lot! Students are always eager to tell us the differences between Ireland and their home country and I enjoy hearing what they have to say. Each student that comes has their own story and their own unique personality. I really enjoy being in the classroom with the students as it allows for their personalities to shine through and because the lessons are fun and productive, students learn a lot during their time here. Another thing I enjoy are the weekend trips we take, for example a day trip strolling through Galway city whilst hearing the music and seeing the culture that the streets of the city have to offer or a morning on the cliffs of Moher, Irelands most visited attraction. All our activities and trips are full of excitement and allow for the students to learn about the history and culture of Ireland. The time spent with us allows these students to become more confident with the English language and the majority of students do not want to leave when their course is finished. For me I thoroughly enjoy when the students can see themselves improving whether it be their written or spoken English. Our courses are all about improving the student's confidence in English while also having a great time and gaining new experiences. Finally for me, working here allows me to experience new cultures and meet new people on a daily basis. It also allows for new friendships to be formed and a lot of fun to be had!

I arrived in Ireland at the end of August, one week before school started. My first impression was that it was colder than in Spain. My host family were very kind and welcoming as soon as I met them. I immediately began to relax. The house was very big and cosy. I was happy. I had a few days off before I started school. I went shopping with my family, we had a lovely day. I even bought a new jumper and I got my new school uniform.
I travelled to school on the bus because it was too far from my house. At the bus stop I met a girl and she told me that she was in third year, which was the same year as me. We became good friends, I found out later that day we were also neighbours, so after school we would walk back to our houses together from the bus stop.
On the first day of school an Irish girl offered to show me around, that was kind. At the beginning I was a little confused as to where my classes were, but eventually I began to find my way around. I found the school a little smaller than my school back home, but it was very nice.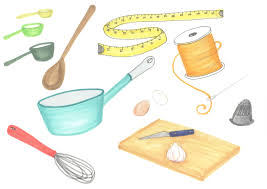 My favourite subject is Home Economics. I find it very interesting that they teach us how to knit, cook and sow all in one class.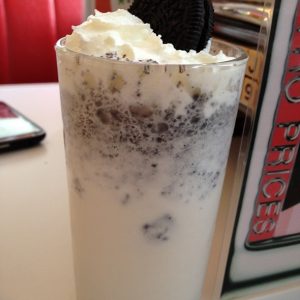 I made friends very quickly. The following weekend we went to the cinema to see 'it' and then we went to a place called 'Eddie Rockets'. I got a delicious Oreo milkshake there. I joined the gym and started rowing. I like to go to the gym after school when I have finished all my homework. I go to rowing lessons on Saturday and Sunday mornings.
I have been keeping busy during my time here. I went to Dublin with my Irish family, whilst there I bought some more clothes, two jumpers and one shirt. We went to a restaurant and had a lovely dinner. I was very full after.
A few days later we had our mid-term break from school, during that time I spent a few days with my friend Ella. We went to a huge shopping centre, unfortunately I didn't buy anything this time, but I still had a lot of fun. That evening we went to a birthday party. The next day they showed me around Dublin and we had food at a lovely Mexican restaurant.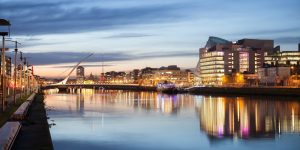 I had such a lovely time visiting different places.
I went back to my host family for Halloween, we had a little party and we watched some fireworks. We went to McDonald's that evening and had burgers and chips.
When I return home I am going to miss Ireland and all my wonderful friends I have made here. Although for now I am very excited about the rest of my stay and to continue improving my English.

Located in the centre of Ireland on the River Shannon, Athlone has a lot to offer. Whether you are looking for an action-packed weekend or a relaxing break there is something for everyone.
Athlone Castle is a very popular attraction. It is an interesting exhibition on the history of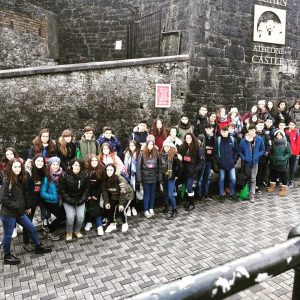 Athlone and the castle itself. The presentations are eye catching and our students visiting regularly enjoy the dress up area (any opportunity for a selfie!!). It is both very entertaining and informative.
If you move a little outside Athlone Town, Derryglad Folk and Heritage Museum is a little wonder. Here you can learn all about farm and folk life in Ireland from 18th century. This family run business houses a unique 25-year collection of over 5000 items. Time spent sharing stories only adds to the overall experience. It has something to interest everyone. A real gem!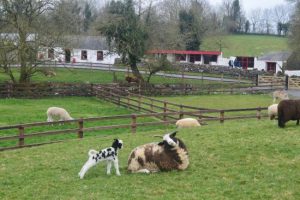 Glendeer Pet farm offers you animal interaction at its very best. It has something for every age group from cuddly farm animals to playgrounds and fairy trails. There's never a dull moment.
The church of St Peter and Paul is worth a visit. The stain glass is simply stunning and the church itself is very peaceful. It offers a warm friendly atmosphere in the centre of Athlone.
Athlone is home to Irelands largest water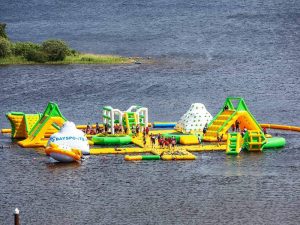 park, currently holding the Guinness world record for the worlds tallest floating slide. There's a wide range of activities to choose from such as kayaking, raft building and sailing.
Sean's bar, most famously recognised as Irelands oldest pub, is very popular with tourists offering traditional Irish music along with a wide array of their own beers and whiskeys as well as the usual pint of Guinness.

Finally, be sure to enjoy a boat trip on the River Shannon. Viking boat tours offer a wonderful experience with beautiful views of Lough Ree.