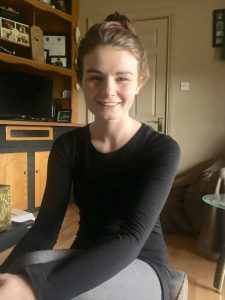 Hi! My name is Laura and I am part of the team here at Shannon Academy of English. My experience working here has been nothing short of excellent. My role within the academy includes teaching and facilating activities and trips for our students. Our program sees a number of students from different countries arrive each week. Each group of students are different, but one thing they have in common is their excitement and enthusiasm to learn and practice their English here with us and also to explore what Athlone and Ireland has to offer.
Working here is very diverse and no two weeks are the same. A week with us could see a visit to the amazing Cliffs of Moher, learning the skills of Irish sports or an adventure around Galway or Dublin City. With a wide range of activities on offer, students are always busy and are constantly practicing their English. As a graduate of a modern languages degree from the National University of Ireland Galway, I know how difficult it can be to learn a foreign language and I personally believe that immersion is the key to language learning. Therefore I think that with our friendly bunch of staff, welcoming host families and detailed English syllabus each student can benefit hugely from their time here with us at Shannon Academy.
Since I began working here, I have also learned a lot! Students are always eager to tell us the differences between Ireland and their home country and I enjoy hearing what they have to say. Each student that comes has their own story and their own unique personality. I really enjoy being in the classroom with the students as it allows for their personalities to shine through and because the lessons are fun and productive, students learn a lot during their time here. Another thing I enjoy are the weekend trips we take, for example a day trip strolling through Galway city whilst hearing the music and seeing the culture that the streets of the city have to offer or a morning on the cliffs of Moher, Irelands most visited attraction. All our activities and trips are full of excitement and allow for the students to learn about the history and culture of Ireland. The time spent with us allows these students to become more confident with the English language and the majority of students do not want to leave when their course is finished. For me I thoroughly enjoy when the students can see themselves improving whether it be their written or spoken English. Our courses are all about improving the student's confidence in English while also having a great time and gaining new experiences. Finally for me, working here allows me to experience new cultures and meet new people on a daily basis. It also allows for new friendships to be formed and a lot of fun to be had!
I arrived in Ireland at the end of August, one week before school started. My first impression was that it was colder than in Spain. My host family were very kind and welcoming as soon as I met them. I immediately began to relax. The house was very big and cosy. I was happy. I had a few days off before I started school. I went shopping with my family, we had a lovely day. I even bought a new jumper and I got my new school uniform.
I travelled to school on the bus because it was too far from my house. At the bus stop I met a girl and she told me that she was in third year, which was the same year as me. We became good friends, I found out later that day we were also neighbours, so after school we would walk back to our houses together from the bus stop.
On the first day of school an Irish girl offered to show me around, that was kind. At the beginning I was a little confused as to where my classes were, but eventually I began to find my way around. I found the school a little smaller than my school back home, but it was very nice.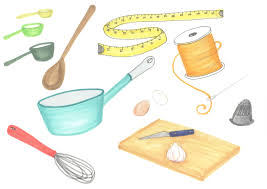 My favourite subject is Home Economics. I find it very interesting that they teach us how to knit, cook and sow all in one class.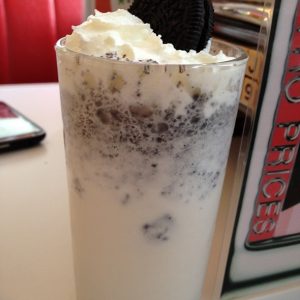 I made friends very quickly. The following weekend we went to the cinema to see 'it' and then we went to a place called 'Eddie Rockets'. I got a delicious Oreo milkshake there. I joined the gym and started rowing. I like to go to the gym after school when I have finished all my homework. I go to rowing lessons on Saturday and Sunday mornings.
I have been keeping busy during my time here. I went to Dublin with my Irish family, whilst there I bought some more clothes, two jumpers and one shirt. We went to a restaurant and had a lovely dinner. I was very full after.
A few days later we had our mid-term break from school, during that time I spent a few days with my friend Ella. We went to a huge shopping centre, unfortunately I didn't buy anything this time, but I still had a lot of fun. That evening we went to a birthday party. The next day they showed me around Dublin and we had food at a lovely Mexican restaurant.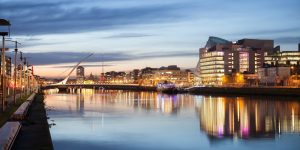 I had such a lovely time visiting different places.
I went back to my host family for Halloween, we had a little party and we watched some fireworks. We went to McDonald's that evening and had burgers and chips.
When I return home I am going to miss Ireland and all my wonderful friends I have made here. Although for now I am very excited about the rest of my stay and to continue improving my English.
Located in the centre of Ireland on the River Shannon, Athlone has a lot to offer. Whether you are looking for an action-packed weekend or a relaxing break there is something for everyone.
Athlone Castle is a very popular attraction. It is an interesting exhibition on the history of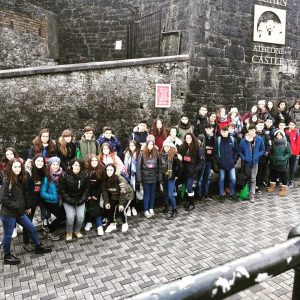 Athlone and the castle itself. The presentations are eye catching and our students visiting regularly enjoy the dress up area (any opportunity for a selfie!!). It is both very entertaining and informative.
If you move a little outside Athlone Town, Derryglad Folk and Heritage Museum is a little wonder. Here you can learn all about farm and folk life in Ireland from 18th century. This family run business houses a unique 25-year collection of over 5000 items. Time spent sharing stories only adds to the overall experience. It has something to interest everyone. A real gem!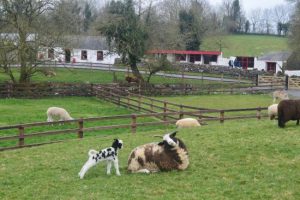 Glendeer Pet farm offers you animal interaction at its very best. It has something for every age group from cuddly farm animals to playgrounds and fairy trails. There's never a dull moment.
The church of St Peter and Paul is worth a visit. The stain glass is simply stunning and the church itself is very peaceful. It offers a warm friendly atmosphere in the centre of Athlone.
Athlone is home to Irelands largest water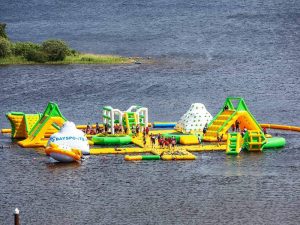 park, currently holding the Guinness world record for the worlds tallest floating slide. There's a wide range of activities to choose from such as kayaking, raft building and sailing.
Sean's bar, most famously recognised as Irelands oldest pub, is very popular with tourists offering traditional Irish music along with a wide array of their own beers and whiskeys as well as the usual pint of Guinness.

Finally, be sure to enjoy a boat trip on the River Shannon. Viking boat tours offer a wonderful experience with beautiful views of Lough Ree.
My name is Esther I am fifteen years old and I am from Spain. I am staying here in Ireland for the school year. I am a transition year student at Athlone Community College. As part of my transition year programme. I am working here at Shannon Academy for one week. I work with Caoimhe, Aisling, Annette and Tory, I settled in right away, they made me feel very comfortable.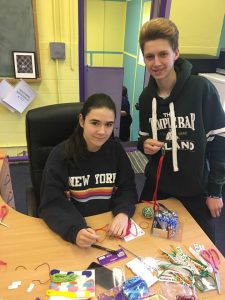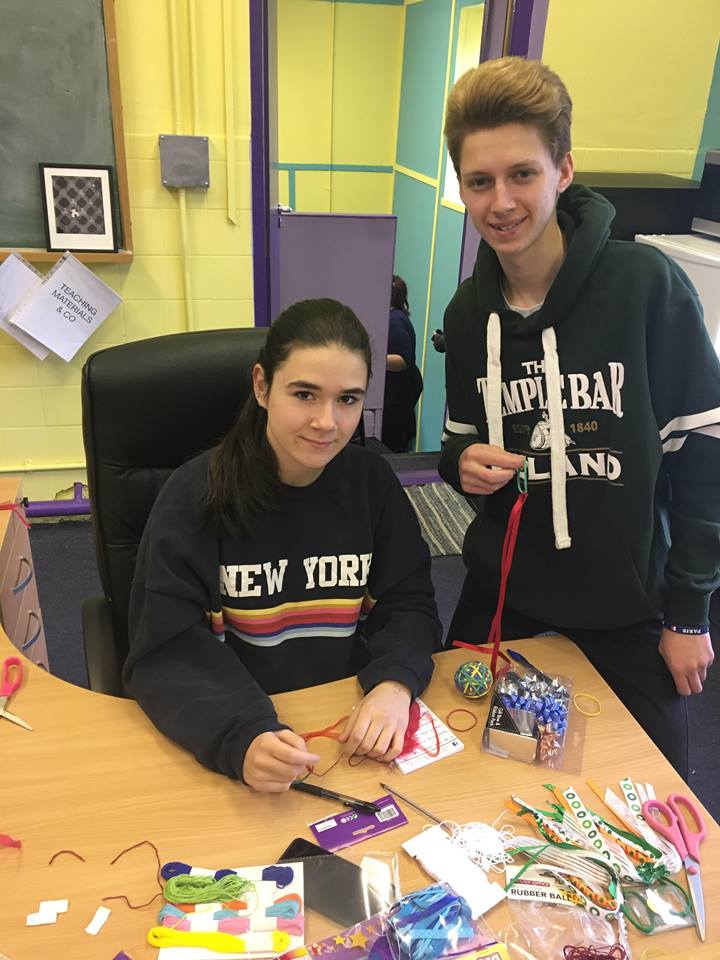 My work here involves many different aspects. I organised all the books and the uniforms for the academy. I then had to transfer all the information onto the computer system. I prepared some of the bus passes for the students, on each pass I had to put the student's name and other information such as their host family address, contact number and the bus stop name. I translated a letter from Spanish to English for the academy. I also helped prepare for St. Patrick's day which allowed me to get a little creative.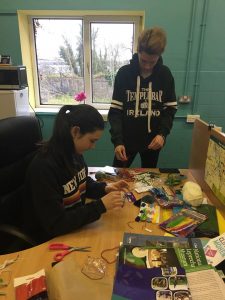 My experience working here was excellent and I would like to thank Caoimhe and all the staff working at Shannon Academy for helping me out and making it such an enjoyable experience.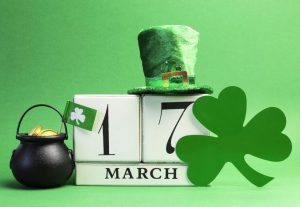 With St. Patrick's day fast approaching we thought we would provide you with some typical Irish phrases that you may hear over the upcoming Bank Holiday weekend. St. Patrick's day is a cultural and religious celebration for Irish people. On St. Patrick's day people usually attend parades that take place all over the country. Celebrations are generally themed around all things Irish and all things green.
There are many wonderful stories about St. Patrick some are true some are untrue. The most famous legend is that he drove the snakes out of Ireland. This did not happen, but the Irish will tell you that you cannot find a snake throughout the entire country of Ireland.
Firstly if somebody is referred to as 'acting the maggot' which is sure to happen this weekend. It simply means they are up to no good.
When you hear somebody is 'happy out' they are very content in their current surroundings.
Now 'awful good' is a phrase used by the Irish. However, when used in these terms it in fact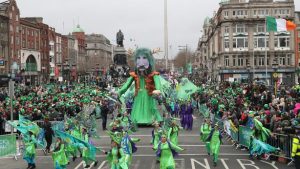 means 'very' not awful. Us Irish like to make things confusing. While we are on the subject 'quare' can also mean 'very' something may be referred to as being 'quare good'.
If you happen to be at a parade over the weekend and are questioned 'was it any use?' it simply means 'was it any good?'
'Ara' is an expression used from the country that fits before your name usually it can be used if a person doesn't believe you, is disappointed, surprised, or really any other feeling.
'It's grand' is a very common phrase used by Irish on a day to day basis, simply meaning it's fine, it does the required task.
If you are told 'the craic was 90' this refers to the fun and atmosphere being excellent.
'I will yeah' is commonly said in response to a person when asked to do something which they have absolutely no intention of doing.
Finally whilst in Ireland you may be offered 'a bag of taytos' but there's no need to worry you are just being asked if you would like a packet of crisps.
My name is Clara I am fifteen years old and I am staying in Ireland, I am living in Tullamore, in County Offaly. It is near Athlone.
I arrived in Ireland on 30th August. At the beginning I was a little confused and homesick. My host family really helped me settle in and I started to feel a lot better. My family are lovely, they help me out a lot and always make me feel happy. The mum is a very good cook and her food is always delicious. I am enjoying my stay so much.
I am in 5th year attending a girl´s secondary school which is unusual for me because in Spain I attended a mixed school. I find some subjects a little bit difficult, but the teachers are very helpful. They understand that in Spain we have some of the same subjects but also different ones such as Home Economics which I find interesting. I find Maths in school pretty easy.
When I finish school my host mum collects me and then we all have our dinner together. Generally after dinner we talk and have a chat about the day. Then I do my homework and go to the gym or pool with my Spanish friends. When I come back to the house I eat something small, sometimes I read a little and I write a journal about my day.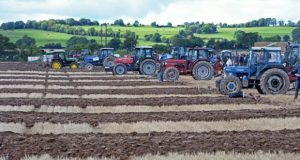 I have visited lots of places and done various activities while I have been here. I went to the National Ploughing Championship, whilst there I met some of my Spanish friends that are in Longford. The National Ploughing Championship is an outdoor agricultural show in Ireland including a ploughing contest. It is held every September, it is extremely popular and draws over 1500 exhibitors and achieves attendances of over 200,000.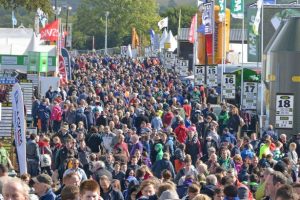 I have been to Athlone shopping for the day and to hang out with my friends. Also, some Fridays after school I go to McDonald's with my friends. I have discovered a lot of new places such as Dunnes Stores, Tesco, Eddie Rockets, Supermac's or Papa Johns for some lovely food.
The best aspect of being over here is that I have met a lot of incredible new people that are so willing to help and now we are like a little family. I also feel I am more independent and confident among many other things. I am excited for the rest of my stay here in Ireland and to discover more about the country and culture.
My name is Juan Pedro Martinez and I am going to tell you a little bit about my experience in Ireland so far. I travelled to Ireland on 26th August 2017. The first day I was nervous and fearful I did not know what to expect until I reached Athlone. When I arrived I began to feel a lot calmer. My family were so welcoming from the beginning and treated me so well. I really love my family. In my host family there are five members including three children all boys aged 8,11,16. They are all very kind. I found the first week difficult adapting and settling in to my new routine.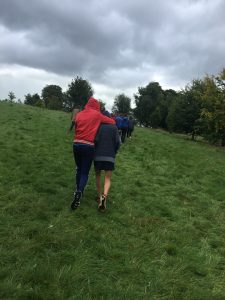 Mealtimes
Breakfast 7:30 a.m.
Lunch: 1:00 p.m.
Dinner: 6:00 p.m.
Appetizer: 9:00 p.m.
School
The first day felt a little overwhelming, we received our books, we had various classes and met our teachers but I also made some friends so that was good. After a while I started to settle in and began to feel more comfortable and I met lots of new people. I will be doing two weeks work experience throughout the year. I think I would like to do mine in a cafe or hotel setting. I am looking forward to doing this because I think it will be a very good experience for me and I have never done anything like it before.
After school
On a Monday and Wednesday, I like to go to the swimming pool in the evenings. On Tuesday, Thursday and Friday I usually go to the gym straight after school.
Weekends
At the weekend I also keep very busy, on a Friday evening I go out with Spanish friends and from time to time Irish friends come as well, we go to the shopping centre or to the park. On Saturdays we almost always visit somewhere different such as Dublin, Galway or Tullamore. On Sunday we usually have a party with both Spanish and Irish.
At Halloween my parents and my uncle came to Ireland to visit me. When my uncle came we went to Dublin for the first two days. Then we spent two days in Athlone. With my parents we spent one day in Dublin and three days in Galway, while there we visited Kylemore and the Cliffs of Moher. We spent our last day together in Athlone with my host family.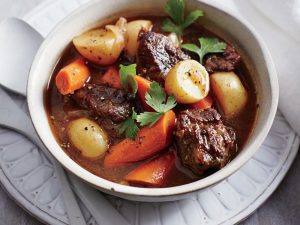 On your trip to the Emerald Isle why not try out some of our top Irish dishes. Traditional Irish stew, in the past would have been very basic made with mutton, barley and potatoes all fresh ingredients but now as there are more ingredients available than in the past some recipes slightly differ. Nowadays, it is regularly made with beef as an alternative then combined with potatoes, onions, and carrots. The selection of herbs and added stock provide a one pot wonder full of flavours that most certainly should be tried.
Potatoes are undoubtedly Irelands staple food. We boomed with this economical and plentiful food supply. But later declined when blight hit the potato harvest, however they are still very essential to the Irish diet and are in most of our dishes.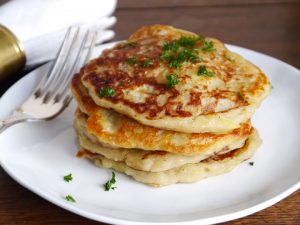 A 'boxty' is another form of potato it can be referred to in different ways such as a potato pancake, potato bread or a potato dumpling. It consists of grated raw potato mixed with mashed potato and mixed with flour and salt before being sliced and boiled in butter.
Another potato-based dish is colcannon. It has even become popular around the world, it usually consists of kale or cabbage mixed with hot creamy mashed potatoes. Despite the simplicity of the dish it is delicious and very popular.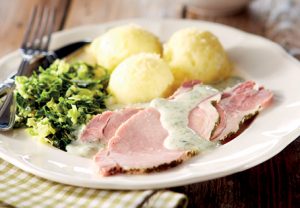 Boiled bacon, cabbage, and boiled potatoes is a firm family favourite. Parsley sauce is a classic accompaniment. This dish is highly associated with Ireland.
'Coddle' is another popular meal that can be found easily around Dublin. Hence, it is traditionally known as a city dish. Although recipes differ slightly there are again three main ingredients bacon, sausages, and potatoes.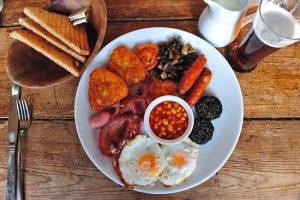 One of the mornings why not try an Irish breakfast although it may not appeal to everyone it is most certainly something different to try and very unusual to many cultures and as the saying goes when in Ireland do as the Irish do. Although this originates from England the Irish have made it their own. In general, this consists of bacon, sausages, eggs, fried tomatoes, mushrooms, hash browns, white and black pudding, and baked beans. Toast and teas are essential sides for this national favourite.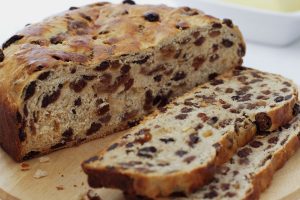 Other Irish delicacies to try whilst on your trip would be Barmbrack. This popular bread is an Irish Halloween custom. It is a sweet type of bread filled with raisins, sultanas and usually served with a cup of tea, it can be found in many cafes. Us Irish also love our soda bread, it is a form of quick bread some recipes differ slightly, but the basic ingredients remain the same along with the way it is eaten cut and spread generously with butter.
From lamb in the Spring, to fish in the summer to stews and soups in the winter and of course potatoes at almost any time of the year there is most certainly something for everyone.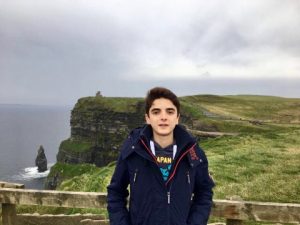 I was very excited and eager about coming to Ireland. So far, my adventure has been very enjoyable, many things have happened.
Initially I was a little homesick. I missed my family but with the help of my host family I started to feel better and every day I was a little less sad. When I started school, everything improved and I was a lot happier. I started going to St. Colmans school in Fermoy. Fermoy is a town half an hour from Cork. It is a very quiet town but because we are close to Cork I often go to different places with my family.
At school I have a great time, we do various classes, they provided us with a locker to keep my books safe and I like that we must wear a uniform every day, it means I don't have to worry about clothes. I also find it very comfortable. I have already made friends in school and during break time we play hurling and we talk. I also spend lunch time with them. I am already a specialist in various types of wraps. At school I have started playing soccer and basketball. This has allowed me to make more friends and speak more English. I love this.
I am really happy with my host family. They take very good care of me. I enjoy playing soccer with the children I live with. There's a field close to the house that we go to play football in regularly. We also enjoy trips to the cinema and every weekend we take a trip to a different place, I am seeing a lot of Ireland. The trip to Dublin was very funny, I liked it a lot.
I really like soccer a lot and they do too so it's good. We watch matches in the Irish league and Premier League on Saturday afternoons. I also really like the food over here.
My time in Ireland is now passing very quickly, I cannot quite believe that I have been here two months already and loving every minute of it.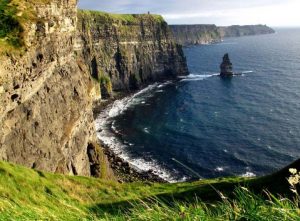 Take a trip to the West coast of Ireland and visit the Cliffs of Moher in county Clare. They offer breath taking views at the heart of the Wild Atlantic Way. This historical landmark is one of Ireland's most famous sights. From the edge of the cliff, this spectacular natural wonder will overwhelm you as you take in the tremendous scenery and hear the waves crashing against the stone below.
Whilst visiting the west coast of Ireland, take a trip to Galway one of Irelands most vibrant places known for its friendly people, charming streets, shopping, and nightlife. Enjoy the wonderful atmosphere this city has to offer.
If the views at the Cliffs of Moher leave you pining for more awe-inspiring views. The Ring of Kerry is a very popular tourist attraction in Ireland particularly busy during the summer months. It is arguably the most scenic day trip in Ireland that offers breath taking views and incredible scenery. For those interested in history the ancient medieval sights are also fascinating. The main reason to visit is to see the beautiful Irish landscape and its coastline.
Another popular place to visit is the Blarney castle built nearly 600 hundred years ago it is a world landmark and one of Ireland's greatest treasures. The Blarney stone is the top attraction with tourists visiting the castle and climbing the tower to 'kiss it'. There is an understanding that those who do this will receive the gift of eloquence. On returning to the grounds of the castle enjoy time spent walking around the beautiful gardens.
Head north of Ireland to the Giants Causeway in County Antrim and take in the unique rock formation surrounded by a beautiful coastline.
A visit to Ireland would not be complete without a trip to Dublin city. Whilst there is the usual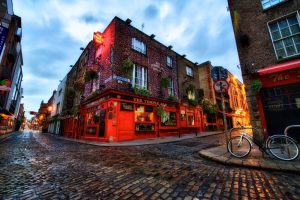 hustle and bustle of any other city, it is worth it to visit some of the capitals most famous attractions. Call into Trinity college to see the Book of Kells or enjoy a stroll around Stephens green park filled with lovely pathways, ponds and fountains located in the heart of the city. In summer time it's a popular location for people to enjoy the sunshine. Visit the Guinness storehouse for a pint of Ireland finest stout. While exploring the city visit one of our most famous landmarks Phoenix park. It is one of the largest enclosed spaces in any capital city in Europe, that alone would make it worthy of a visit.
Finally, a trip to Dublin would not be complete without spending some time in the city's famed Temple Bar area. This vibrant area is filled with bars and restaurants, cobbled pathways and it is renowned for being the cultural quarter of the city.